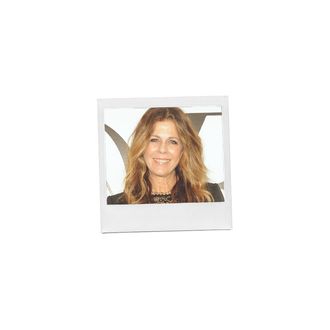 Photo: Brad Barket/Getty Images
Name: Born Margarita Ibrahimoff, Rita Wilson since 1960, Mrs. Hanks to my kids' friends.

Age: I'll show you mine if you show me yours.

Neighborhood: 10021

Occupation: Actor, Producer, Singer. Tomorrow, May 10, she'll be performing cuts from her debut album AM/FM at Joe's Pub.

Who's your favorite New Yorker, living or dead, real or fictional?
Edith Wharton had extraordinary powers of observation relative to New York society in the early twentieth century. Not much has changed in human nature since the last time she was writing, over 100 years ago. Her stories could take place today.
What's the best meal you've eaten in New York?
Just a couple of months ago at Il Mulino in the Village, so delicious and with a very cozy atmosphere. It was like eating at someone's home. The minute we sat down they brought us gorgeous Parmesan cheese, olives, zucchini chips, and wine. I had a grilled fish that was cooked to perfection and a side of simple spaghetti with tomato sauce. Heaven.

In one sentence, what do you actually do all day in your job?
Talk, sing, and e-mail.

What was your first job in New York?
I came to New York for a modeling job in the seventies. But I can't remember what it was for. Maybe that tells you how old I am. :)

What's the last thing you saw on Broadway?
The Book of Mormon. Could that be any funnier?

Do you give money to panhandlers?
Yes.

What's your drink?
Morning: decaf nonfat/skinny wet cap.  I haven't had caffeine in almost twenty years. Nighttime: Pinot Grigio, like Ramona of Real Housewives of New York. Or one margarita. 

How often do you prepare your own meals?
Every morning. Either an all-berry smoothie, adding half a banana and protein powder with coconut water or fresh-squeezed orange juice, or a scrambled egg-white something with homemade salsa. Seriously, why would anyone want to know what I eat for breakfast? That's too funny.

What's your favorite medication?
Advil, Tylenol.

What's hanging above your sofa?
Our place doesn't have a wall to hang anything above the sofa. It's a room with a sofa in the middle of it. When I was a kid my parents had a horizontal, huge painting by Oz Franca of the Parthenon above our plastic-covered turquoise sofa. Who didn't love sitting on a plastic-covered couch in the middle of summer while wearing shorts?

How much is too much to spend on a haircut?
Hard to answer. I guess it depends on how much you want to avoid bad hair days.

When's bedtime?
When I go to bed  or when I fall asleep? I find it harder to fall asleep these days and I blame it on the light coming from my computer. It makes me think it's daytime …

Which do you prefer, the old Times Square or the new Times Square?
New Times Square. But I always worry about sitting in those cafés that feel like they are in the middle of the street. I worry a taxi is going to run into me.

What do you think of Donald Trump?
I have only met him once and he was very nice to me. And very tall.

What do you hate most about living in New York?
That I have to leave it. 

Who is your mortal enemy?
There is only one.  This person knows who "they" are.

When's the last time you drove a car?
Today.

How has the Wall Street crash affected you?
We don't have any money in the stock market but when the country is hurting, everyone is affected.

Times, Post, or Daily News?
New York Times.

Where do you go to be alone?
The park. It is peaceful and you can be alone even amongst others. When I used to run, being in the park during a snowfall was magical. Everything becomes so quiet and muffled. It was like being inside a snow globe of New York City.

What makes someone a New Yorker?
A love of the city, no matter where you are or how you live.