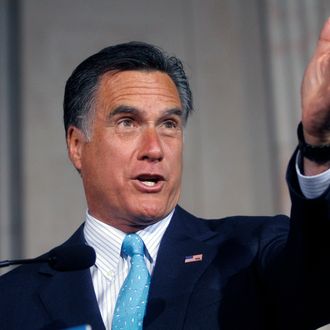 Mitt Romney.
Photo: Jessica Kourkounis/Getty Images2012 Getty Images
Mitt Romney,infamous for penning a 2008 New York Times anti-bailout op-ed entitled "Let Detroit Go Bankrupt," declared yesterday in an interview conducted at a Cleveland auto-parts-maker that, in fact, he deserves a great deal of credit for saving the auto industry, and that President Obama had in fact followed his lead, per the Associated Press.
"I pushed the idea of a managed bankruptcy, and finally when that was done, and help was given, the companies got back on their feet," said Bloomfield Hills' native son. "So, I'll take a lot of credit for the fact that this industry has come back." It's a step farther than Romney's been going to date with his position on the bailout's handling; previously, he'd merely claimed that Obama took his advice "ultimately," though the president in fact proceeded in a very different way than Romney's advice would have suggested. The new Romney campaign trail feint arrives concurrently with a new ad from the Obama camp, "Go," in which the president reminds voters of the darkest days of 2008–09, and how Obama handled things like, oh, for instance, the auto bailout with aplomb.
The new Obama ad also echoes a newish Joe Biden catchphrase: Osama Bin Laden is dead, and General Motors is alive. Romney already went after the first half of the slogan with his recent criticisms of Obama's decision to use the Bin Laden raid as a campaign talking point and by saying it wasn't exactly a tough call to make (despite his own stance at the time on the wisdom of the operation); now, it seems, he's trying to deflate the auto-industry half as well — again, despite his own stance at the time on the wisdom of the operation. It's a tactic that relies awfully heavily on the short-term memory of Americans and, maybe, the New York Times paywall — but unfortunately for Romney, readers can pull up that op-ed long before hitting the article limit, and anyway, the Obama campaign is sure to aggregate it for them.