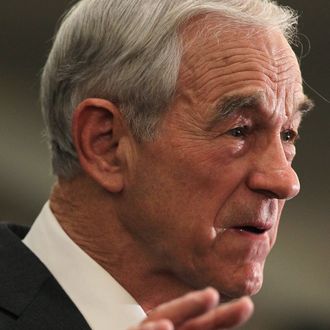 Lobsters for everyone!
Photo: Alex Wong/2012 Getty Images
Ron Paul is indeed still running for the Republican presidential nomination and today he won the state of Maine. The last remaining challenger for the nomination, Paul finished right behind Romney in Maine's nonbinding caucuses in February. But Paul's backers reportedly took control of Maine's two-day Republican Convention this weekend, electing 21 Paul supporters for the state's 24 seats at the Republican National Convention in Tampa, Florida. The GOP race is effectively but not officially over, so the 21 delegates Paul won today, bringing his total to roughly 90 (compared with Romney's nearly 850), were basically scored in garbage time and won't matter except for as a morale boost. Kind of like the New York Knicks' victory over the Miami Heat today.