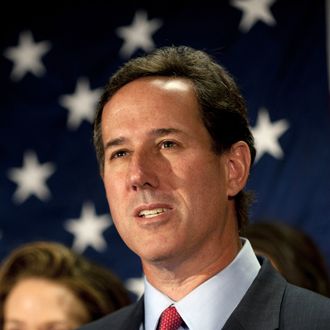 I have stamped this man with my social conservative approval.
Photo: Jeff Swensen/2012 Getty Images
Rick Santorum finally offered his endorsement of Mitt Romney on Monday in an e-mail to supporters following an hour-plus, one-on-one meeting. "During our meeting I felt a deep responsibility to assess Governor Romney's commitment to addressing the issues most important to conservatives, as well his commitment to ensuring our appropriate representation in a Romney administration," Santorum wrote. "The family and its foundational role in America's economic success, a central point of our campaign, was discussed at length. I was impressed with the Governor's deep understanding of this connection and his commitment to economic policies that preserve and strengthen families. He clearly understands that having pro-family initiatives are not only the morally and economically right thing to do, but that the family is the basic building block of our society and must be preserved."
It should come as no surprise that social issues apparently dominated the conversation. Santorum held off endorsing Romney since dropping out the race in early April before he could suffer an embarrassing defeat in his home state of Pennsylvania. In the interim, Santorum appeared on Piers Morgan Tonight where the host nearly bludgeoned him for a Romney endorsement. "Above all else," Santorum wrote, "we both agree that President Obama must be defeated."
As for why the endorsement didn't come sooner:
While the issue of my endorsement did not come up, I certainly have heard from many of you who have weighed in on whether or not I should issue a formal endorsement. Thank you for your counsel, it has been most helpful. However, I felt that it was completely impossible for me to even consider an endorsement until after a meeting to discuss issues critical to those of us who often feel our voices are not heard by the establishment: social conservatives, tea-party supporters, lower and middle income working families.
There you have it. How much of this meeting did Romney spend nodding and smiling? Or insulting Karen Santorum's cookies?