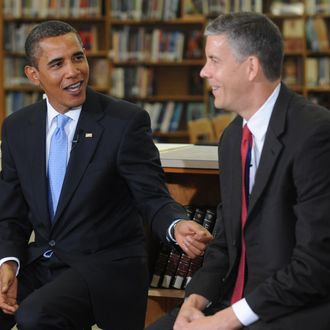 U.S. President Barack Obama (L) and U.S. Education Secretary Arne Duncan host a group discussion with students at Wakefield High School September 8, 2009 in Arlington, Virginia. Obama spoke to students on the first day of the school year, for many in America, encouraging them to study hard and take responsibility for their own education.
Photo: Michael Reynolds-Pool/Getty Images
A day after Vice-President Joe Biden pretty much endorsed gay marriage on Meet the Press, Secretary of Education Arne Duncan made his support much more explicit. "Yes, I do," he told the Morning Joe crew when asked if same-sex couples should be allowed to wed, because his opinion on this apparently matters. Has anyone asked Office of Management and Budget Director Jeffrey Zients where he stands yet?