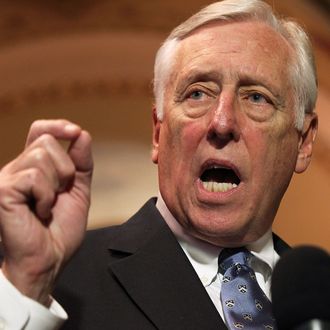 Bravo, Steny.
Photo: Alex Wong/Getty Images
Yesterday, we ran a story highlighting the unwillingness of Maryland's Steny Hoyer, the number two Democrat in the House, to take a public position on gay marriage. Despite days of badgering, we had been unable to get Hoyer's office to tell us whether he still supported civil unions, as he had back in 2004, or full-on same-sex marriage. But this afternoon, not even thirty hours later, Hoyer released a statement endorsing of marriage equality:
"I have believed that the phrase 'civil union' was an appropriate definition of a relationship that is both different and the same between two people of the same sex. And I have believed strongly that such couples must be treated equally under the law.

"Because I believe that equal treatment is a central tenet of our nation, I believe that extending the definition of marriage to committed relationships between two people, irrespective of their sex, is the right thing to do and will not, in any way, undermine the institution of marriage so important to our society nor impose a threat to any individual marriage. It will, however, extend the respect due to every one of our fellow citizens that we would want for ourselves and our children."
Now, it's not totally unreasonable to chalk up Hoyer's change of heart to a certain interview that a certain someone gave yesterday. We're willing to share credit.