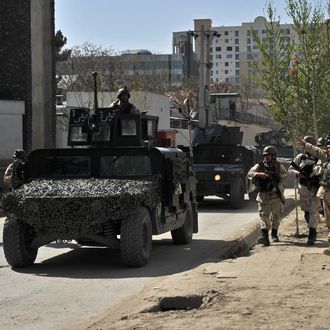 Photo: MASSOUD HOSSAINI/2012 AFP
On Sunday, the Washington Post reported on a covert diplomatic program through which the U.S. releases high-level insurgents at an Afghanistan military prison in exchange for information, influence, and promises of peace. "We look at detainees who have influence over other insurgents — individuals whose release could have a calming effect in an entire area," one U.S. official said. "In those cases, the benefits of release could outweigh the reasons for keeping him detained."
An official said that this type of release is rare, adding, "Everyone agrees they are guilty of what they have done and should remain in detention." Yet officials have negotiated swaps with Taliban members (and members of other insurgent groups) where the benefits outweigh the risks in provinces where "military power has reached its limits."
The released detainees are often "notorious fighters" who must promise to give up violence and get warned out the door that they will get locked back up if they attack U.S. or Afghan forces again.
This report and revelation about the discrete diplomacy program comes only a few days after President Obama addressed the American people from Bagram Air Field outside of Kabul, where he signed a pact — the Strategic Partnership Agreement— with Afghanistan president Hamid Karzai. The agreement covers the U.S. commitment to the struggling nation after the planned U.S. drawdown of troops by the end of 2014. At that time, Obama says, the U.S. will assume a support role.

"The Afghans have come to us with information that might strengthen the reconciliation process," U.S. Ambassador Ryan C. Crocker said. "Many times we do act on it."
A bit about how these exchanges materialize:

The process begins with conversations between U.S. military officials and insurgent commanders or local elders, who promise that violence will decrease in their district — or that militants will cease fighting altogether — if certain insurgents are released from Parwan. The value of the tradeoff and the sincerity of the guarantee are then weighed by senior military officials in Kabul, officials said.
The Post provided an example where weeks of negotiation between U.S. forces and commanders for Hezb-i-­Islami (or Islamic Party) resulted an exchange where the U.S. received useful intelligence and the Hezb-i-­Islami got a relative back. Former top U.S. commander in northern Wardak province, Lieutenant Colonel John Woodward, told the Post that before long, "the U.S. troops and Hezb-i-Islami fighters were conducting joint operations, traveling in the same vehicles and sleeping on the same bases."