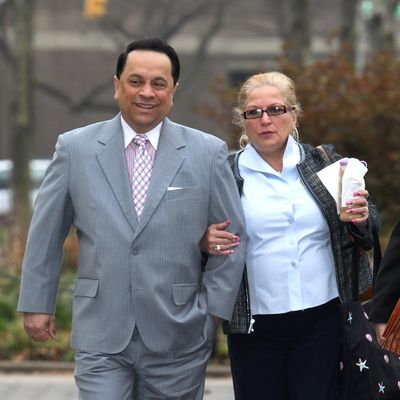 Photo: Spencer Burnett / Splash News
So Pedro Espada is now officially a felon. Yet I can't help but admit to mixed feelings about the man. Espada's network of clinics provided pretty good health care in chronically underserved Bronx neighborhoods. That he used money that could have gone to patient care to enrich his family and buy sushi — not good. On the other hand, Espada was blatant about his crookedness in a way that lesser rogues try to cover over in layers of high-minded blather.
Back in the bizarre Albany gridlock summer of 2009, Espada rose to a position of crucial power by repeatedly switching sides, holding out for the best deal. That he allowed me to watch the horse trading — inviting me into his office while he profanely hashed out strategy with lobbyists and advisors and ripped then-Governor Paterson — may have been politically stupid, but it was refreshingly, almost endearingly brazen. Espada kicked legislators out of the State Senate chamber so he could pose for a picture to accompany the story — an act that not only produced (in my opinion) one of the all-time-greatest photographs used in New York, but pretty much summed up Espada's combination of recklessness and egomania. As a reporter, you have to miss the guy. As a citizen, maybe not.