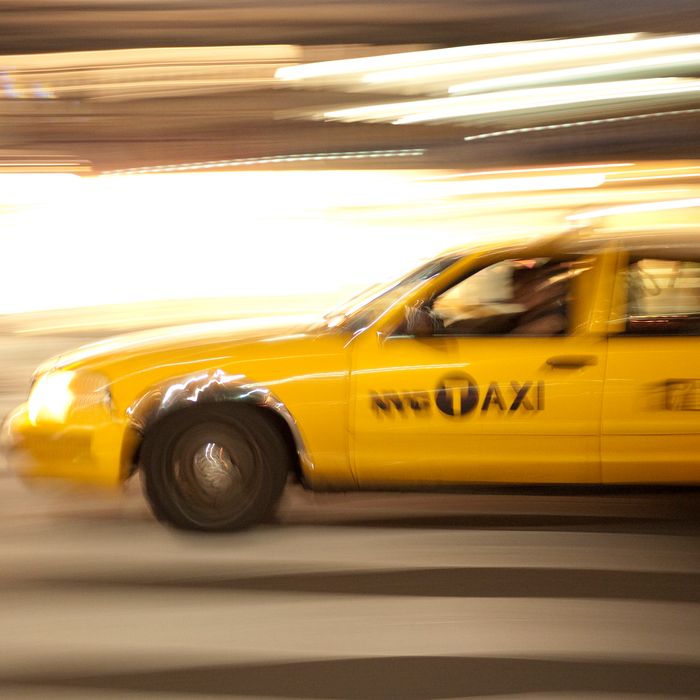 Photo: Jon Arnold/AWL Images/Corbis
Shortly after 2 p.m. on a Thursday afternoon, Lucky Abeysekara grips the wheel of his taxi cab with both hands, racing through the Midtown Tunnel toward Manhattan. The hunt for fares has yet to start, and he's already $165 in the hole from the daily cost of leasing a medallion, buying gas, and paying the toll. As soon as he enters Manhattan, he switches on the light atop his roof. Then he zooms up Third Avenue. "I like to stay on the East Side," he says. "I'm an East Side man."
His eyes sweep the sidewalks for fares as he turns left onto East 77th Street, heads down Lexington, left on East 54th, and back up Third Avenue. He makes this same loop again. And again. Despite his nickname, Lucky — short for Lakshman — is still searching for his first fare after 30 minutes. It's never a good sign when you start your shift by driving around in circles with an empty backseat.
Making a living as a cabdriver is a fragile economic balancing act — one that is now commanding citywide attention as the Taxi & Limousine Commission prepares for a May 31 hearing on a possible fare hike. The New York Taxi Workers Alliance, which is pushing for a fare increase, says drivers make less now than they did six years ago, the last time the city raised cab fares. If fares do increase this summer, how much of the additional revenue would actually wind up in drivers' pockets remains in doubt.
To pay off his expenses and also earn a living, Lucky, 50, drives twelve hours a day, six days a week, all the while sitting atop a thick cushion — not for reasons of comfort, but to give himself a competitive edge: to enhance his ability to spot potential customers.
Does that guy in a suit on the next corner have his hand up? Lucky pulls over at Third Avenue and 59th. The man slides into his backseat and exits two minutes later at Third and 69th. Cost of the ride: $3.80. (That's $2.50 just for getting into the cab, 80 cents for the mileage, and 50 cents for the so-called "MTA tax.") He tips $1.20.
Experienced cabdrivers know you can't wait for hails. Lucky spies two schoolgirls standing on Lexington, scanning the oncoming traffic. Though neither has her arm in the air, he stops. "This is the art of the job," he says, "to find out who will need you." His hunch is correct: The girls want to go to the Upper West Side. When he deposits them at Broadway and 108th, they hand him $13 for the ride, and $2 for a tip.
By 3:35, he's picked up four fares and collected $32. Maybe it won't be such a bad night after all.
* * *
Cabdrivers' take-home pay depends on more than just passengers and fares. The rare driver owns his own medallion and taxi cab; some drivers own only the cab; and many own neither. In this hierarchy, Lucky Abeysekara falls in the middle. He just finished paying off his Ford Escape Hybrid. Total cost: $40,456, plus assorted fees and taxes. His two-year-old cab appears to be in excellent condition — no dents or scrapes. But the odometer tells another story: 129,000 miles. And he still must pay $842 a week to lease a medallion.
The four-by-five-inch piece of tin attached to the hood of every cab transforms an ordinary yellow car into a vehicle licensed to pick up passengers. A medallion can cost hundreds of thousands of dollars on the open market — two sold last year for more than $1 million each — and are leased for up to $800 per week for a regular cab, and $842 for a hybrid.
Last year, Lucky estimates that he made about $22,000. "One month I earned only $1,000," he says. "The other month I made only $256 because there were expenses to the car." Part of the problem is that he doesn't have a partner, who could drive his cab during the day shift and help cover his expenses. The partner he used to share his cab with left a few months ago; though he found a new partner, he hasn't started yet.
Nonetheless, Lucky is now in a much better situation than he was when he first began driving seven years ago. Back then, he was at the bottom of the cabbie food chain: a "garage driver." Each day he reported for work at a garage — which owned a fleet of cabs — and there was never a guarantee he'd get the same car he had the day before. Or that the cab he got wouldn't fall apart. "The garage is always giving you cars that are going nowhere," he says. "You're in the middle of the street without a tire."
Just to cover his expenses, he had to make $200 a shift. And there was always the possibility that he'd get stuck driving a cab that stunk. Fuel, coffee, food, urine, vomit. "You name it," Lucky says. "A taxi smell." The only way to make sure you got a decent cab was to slip a few dollars into the dispatcher's palm. Now that Lucky owns his own cab, he makes a point of keeping it extremely clean. "Happy customers give good tips," he says. "Getting into a cab that's smelly — it can ruin your day."
* * *
There is one question Lucky gets more than any other. Not: "Where is the Empire State Building?" Or: "How long does it take to get to the airport?" But: "Where are you from?" At 4:04 p.m., he picks up a young woman at Broadway and 75th, and before long, the question pops up.
"I'm from India," he tells her.
"Your accent is so light," she says. "How long have you been here?"
"Twenty-five years," he says.
In fact, Lucky is from Sri Lanka, though he usually doesn't tell this to his customers. "When I say Sri Lanka, I have to say some more. Most of them don't know where Sri Lanka is. If you say India, most of them have it right away." Other times he'll give a different answer, like Indonesia. And occasionally, to entertain himself, he'll make up a country altogether, like "Kijigistan."
* * *
Every night, Lucky confronts the same Catch-22: He needs caffeine to push through a twelve-hour shift, but if he drinks too much, he'll have to stop working and hunt for a toilet, thereby losing out on potential fares. As usual, a thermos rests in the cup holder beside him; on this night, it holds hot chocolate. Five hours into his shift, Lucky has picked up 23 fares and has yet to take a break — not to use the toilet, or stretch his legs, or eat. "I'll run this last hour," he says shortly after 7 p.m. "I can hold it." His motto: "When you have fish, you have to keep fishing."
And he's been hooking fish nonstop: a tourist couple with a howling baby who want to go to a restaurant on the Upper East Side; a middle-aged man meeting somebody at Monster Sushi in midtown; a frazzled woman late to join her friends in the meatpacking district. Lucky's plan is to keep driving until 8 p.m., when he knows fares will become much harder to find. By then, most people will have gotten to wherever they're going — restaurants, bars, theaters — and there will be a lull until about 9 p.m., when would-be customers begin to look for a ride home. Finally, at 7:55, Lucky decides he can't hold it any longer, and he steers his cab into the parking lot next to the McDonald's at 34th Street and Tenth Avenue.
Apparently, a few dozen other cabbies also had this same idea: There are so many taxi cabs crammed into this parking lot that there's not a single empty space. Eventually Lucky does find a spot, but as he is maneuvering into it, reversing to come in at a better angle, another cabbie steals his space.
Lucky opens his door and hustles over to the driver's window. "Listen. I was here," he says, "I found this place. You can wait."
"I have been waiting for ten minutes," the other driver says.
"No! No! No!" Lucky shouts. "Why are you lying?!"
It was one thing to put up with the woman who earlier gave him a 25-cent tip, or the traffic snarl that had him driving in slow-motion down Fifth Avenue — but to have a fellow cabbie stick it to him like this, especially when he just drove for six hours straight and his bladder is about to explode?
Lucky leans toward the driver's window and raises one hand. "FUCKING LYING MOTHERFUCKER!"
Eventually Lucky manages to find another parking spot, then dashes inside McDonald's, joining the parade of cabbies with full bladders, all staggering up the stairs to the men's room.
* * *
Cab drivers are supposed to pick up whoever hails them, but there are times when Lucky uses his own judgment. If he sees a man trying to flag him down with one hand while clinging to a telephone pole with the other, he might stop a few yards away to conduct his own sobriety test, watching to see if the guy can walk in a straight line. If he stumbles or swerves or collapses altogether, Lucky might just step on the gas and keep going.
By midnight on this evening, he's picked up 33 fares. Nobody seemed too inebriated, but at 12:06 a.m., two young drunk guys climb into his backseat. He has no choice in the matter; they jump in his cab while he is rolling down East 12th Street. It's not long before they ask: Where are you from?

"Latvia," Lucky says.

"Where the fuck is that?"
The trip lasts only three minutes and totals $4.70. One guy pays with a credit card. Tip: $0.
Lucky tries not to get upset at moments like this, when he gets snubbed by passengers half his age. To boost his morale, he dusts off one of his favorite drunk-passenger stories: the time an extremely intoxicated guy in a business suit crawled into his backseat, asked to go to Brooklyn, then announced he wasn't going to pay. "He was showing me he was a big shot," Lucky says.
Lucky came up with a plan, closing all the cab's windows and cranking up the heat. Within minutes, the passenger fell asleep. Lucky found a cop and explained the problem; the cop offered to follow him to the customer's apartment building. When they got there, Lucky roused his passenger, and the man got out of the cab without paying.
The officer stopped him. "Did I forget to pay?" the passenger said. He pulled out a credit card, swiped it through the machine in the back, and when it asked for a tip, he typed in his PIN number. Fortunately for Lucky, his PIN started with an 8.
In the end, the guy paid almost $100 for a $15 fare. "Enjoy the tip," the cop said.
* * * 
At 12:30 a.m., Lucky zooms along the BQE, en route from Williamsburg to Jackson Heights, pushing his speedometer past 60 m.p.h. for the first time all night. A couple reeking of liquor occupy his backseat, but at least they're just whispering to one another — not ranting at him or having sex or throwing up. He gets them to their destination in twelve minutes.
Lucky himself lives not too far from here, in East Elmhurst. He could keep working — he usually stays on the road until 2 a.m. — but driving back to Manhattan right now doesn't seem worth the trip.
In the end, it turns out to be a very good night for Lucky, with 36 fares and a gross income of $387.58, which includes his fares ($281.60), tips ($64.48), the MTA tax ($18), and surcharges ($1 for rides during rush hour, 50 cents after 8 p.m.). Once he subtracts his expenses — the medallion lease, MTA taxes, the 5 percent fee for every credit-card transaction — he is down to $208.83.
Before he can go home, he's got one last expense. He pulls into a gas station off Queens Boulevard. There's a cabbie at the pump ahead of him, and another next to him who looks completely fried, slumping forward as he staggers into the gas station to pay. "Every day, every day," he says. "No vacation."
By the time Lucky finishes filling his tank, his take-home pay has dropped to $162.83. He turns onto his own street at 1:12 a.m. Most likely he'll fall asleep soon after he gets inside his apartment, with the TV tuned to NY1. And in less than thirteen hours, at 2 p.m., he will be back here once again, in the driver's seat of his taxi cab, pushing his key into the ignition.
Related Stories:
These 1975 New York features inspired the TV series Taxi.
The Word from the Belmore
It's official: Old-time drivers, who hang out at the Belmore, say they're suffering.
By Mark Jacobson
Night-Shifting For the Hip Fleet
It has been a year since I drove a cab, but the old garage still looks the same.
By Mark Jacobson