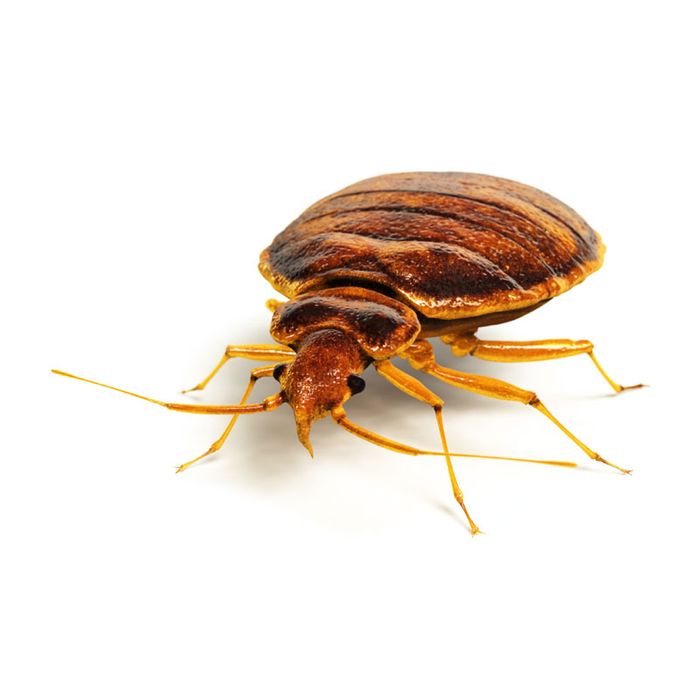 Large. Still in charge?
Photo: Istockphoto
It's nearly summer, and at least since this magazine published its exposé of the Upper East Side's bedbug problem in 2010, that has meant the return of bedbugs, and more important, the return of bedbug hysteria. Bedbugs, we've come to realize over the last few years, are everywhere. Even the Ritz! And yet, suddenly, despite the documented difficulty of tamping down such pesticide-resistant bugs, maybe there's less of a reason to worry. We just might be pulling out a come-from-behind victory in this battle of man versus nature.
For the first time since 2004, stats released by the the Department of Housing, Preservation and Development show that bedbug-related violations are tracking downward in Manhattan, falling 7 percent between 2010 and 2011. Complaints are still on the uptick, but at a slower rate than previous years, suggesting that the massive horror-movie-esque bedbug-takeover scenario many of the city's neurotics imagined during dark, itchy nights of the soul isn't actually going to materialize.
The city's official numbers may even understate how much things have improved. One private exterminator recently told DNAinfo that calls are down by as much as 50 percent since the peak of bedbug hysteria. During that time, anyone looking for a new apartment probably at least idly wondered, and probably inquired, as to whether there had been infestations in the building. Bushwick, or at least certain corners like the McKibben Lofts, became nearly synonymous with bedbugs. Writing in GQ on how "Bedbugs Ravaged My Sex Life!," Jeff Bercovici quoted a friend saying, "You're not actually going to go out with a girl who lives in Bushwick, are you? Are you trying to get bedbugs?
Well, we went to Bushwick. Not to get bedbugs, we hope, but to get people to talk about bedbugs. Does moving into the neighborhood still require the same sturdy resolve, the same sense of defiance in the face of what might once have seemed like a strong chance of infestation?
Justin French, an impeccably dressed 24-year-old analyst we found wandering with a pal near the Morgan Avenue stop, has certain theories about the outer-boroughs versus Manhattan. When he moved to Harlem from Chicago two years ago, in the midst of the height of bedbug hysteria, he didn't worry, because he'd heard the problem wasn't as bad on the island itself. "When I lived in Manhattan, I wasn't too worried because there was a big push to get rid of them." (In fact, though the city's recent data-dump didn't cover the outer-boroughs, broken down by neighborhood, Central Harlem had the most violations, 542; of course, it's more than possible that residents of wealthier neighborhoods where the violation count is suspiciously low are going directly to private extermination.)
But French, who's since moved to the Bronx, is vigilant. "I've definitely taken precautions," he said, saying that perhaps he has a "subconscious" obsession now that he's moved. "I've got two mattress covers. I double-wrapped 'em. Hopefully it doesn't work like the whole condom thing."
Hopefully! Indeed, exterminators and city officials speculate that increased precautions like mattress covers have helped slow the spread of bedbugs, and that the media-fueled hysteria of the past few years might have been useful for something after all. (Though we do feel bad for the 64 New York City residents who have become ill from overusing bedbug prevention products over the past eight years.)
That hysteria, it seems, has even been transcontinental. Autumn Eget, a 25-year-old receptionist at the New York Loft Hostel who recently moved here from Philadelphia, says that while she doesn't personally worry about bedbugs — "I'm not usually sleeping on dirty linens or anything," she says — European travelers often inquire.
But even longtime Bushwick residents, veterans of the bedbug battle, are a bit more blasé these days. Kali Riley, a 22-year-old "freelance camera person," lived in the McKibben Lofts about a year and a half ago, where she had a narrow escape. "As soon as I moved into my new place I got a phone call saying that there were bedbugs and it was the new guy or something," she said. "My roommates were really freaking out and had to throw away a bunch of shit and had to clean." To clean! She threw out all her stuff, just in case, and invested about a hundred bucks in bedbug prevention. And, yet, she's less worried than she used to be. "Last year, there was a bunch of press, I guess, and people always sort of talking about it. But now it's less, it feels like."
Feels like less is half the battle, at least for Dionne DiBlasio, a 28-year-old flight attendant who used to live on a bedbug-ridden block in Greenpoint. She moved to a new-construction building in Bushwick and, despite thinking about bedbugs "every day" two years ago, hasn't taken a single preventative measure in her new digs. "It's not as much of a freak-out thing," she said. "At the time, it seemed like everyone was talking about it."
This is how they win, Dionne! Stay vigilant! We don't live that far from you!