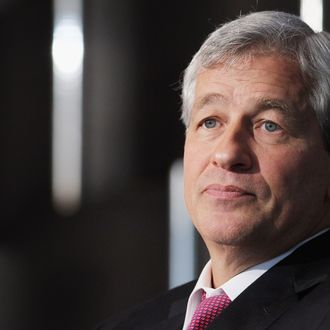 Dimon.
Photo: Mario Tama/Getty Images
Three high-ranking executives at JPMorgan Chase are expected to exit this week as the bank struggles to manage the fallout caused by a botched hedging strategy that cost the bank more than $2 billion. The casualties include Ina Drew, JPMorgan's investment chief who oversaw the unit that's responsible for the massive trading losses. She reports to CEO Jamie Dimon and has worked at the company for three decades. According to the Times, the 55-year-old banker, "one of the most powerful women on Wall Street" and one of the "best managers of balance-sheet risks," had offered to step down multiple times since the scope of the balance sheet blunder became apparent in late April.

Drew, 55, will retire, Dimon said, adding that her  "vast contributions to our company should not be overshadowed by these events." She will be replaced by Matt Zames, formerly of notorious failed hedge fund Long Term Capital Management. It was Zames who reaped much of the credit when JPMorgan notched $5 billion in derivative trading profits during the height of the financial crisis.

Two of Drew's subordinates involved with the failed trades will also reportedly be asked to leave this week. According to The Wall Street Journal, they are Achilles Macris, who was in charge of the London-based operation that placed the questionable trades; and trader Javier Martin-Artajo. Drew, who earned roughly $15 million in each of the last two years, may be out as soon as Monday.
The bank may hold more people accountable for the mess. Meanwhile the size of the loss continues to grow from the widely reported $2 billion figure. The Journal:

As of last Thursday the bank had lost $2.3 billion on a credit derivatives trade gone awry, but that figure grew by about $150 million on Friday, according to a person familiar with the matter. Executives are prepared for another $1 billion of possible losses this quarter from these positions, as well as another $1 billion of potential losses over the next year or so, according to someone close to the matter. That would mean a possible total loss of more than $4 billion, though the positions also could rebound in value, slicing any loss, the person noted.
Beyond the loss, there's the problem of a tarnished reputation and credit-rating downgrades: Fitch Ratings has already dropped the bank one notch.

"Ina is an amazing investor," a money manager who knows Drew told Reuters. "She's done a really good job over a lot of years. But they only remember your last trade."