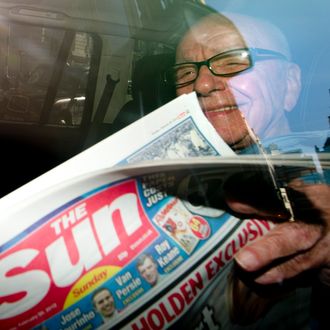 Photo: CARL COURT/2012 AFP
Jay Rockefeller of the Senate Commerce Committee has reportedly reached out to Lord Justice Brian Leveson about the British probe into phone hacking by Rupert Murdoch's News Corp. While there isn't an official investigation at the moment, Sen. Rockefeller is just wondering if there's anything he should know when it comes to the company potentially breaking U.S. laws. In a letter to Leveson, he wrote, "I am concerned about the possibility that some of [the] undisclosed victims are U.S. citizens, and the possibility that telephone networks under the jurisdiction of U.S. laws were used to intercept their voice mail messages." The Justice Department and FBI are also looking into it.
Rockefeller added, "If [News Corp.] was performing internal auditing of these newspapers' financial controls, News International's executives would have been aware of these large improper cash expenditures. I would be very concerned if evidence emerged suggesting that News Corp. officials in New York were also aware of these payments and did not act to stop them."
Meanwhile in Britain, another ex-police officer was arrested today under the umbrella of Operation Elveden, the other other investigation into News Corp.'s reporting practices that's focusing on paying off public officials. Fit or not, this thing's not even close to over.