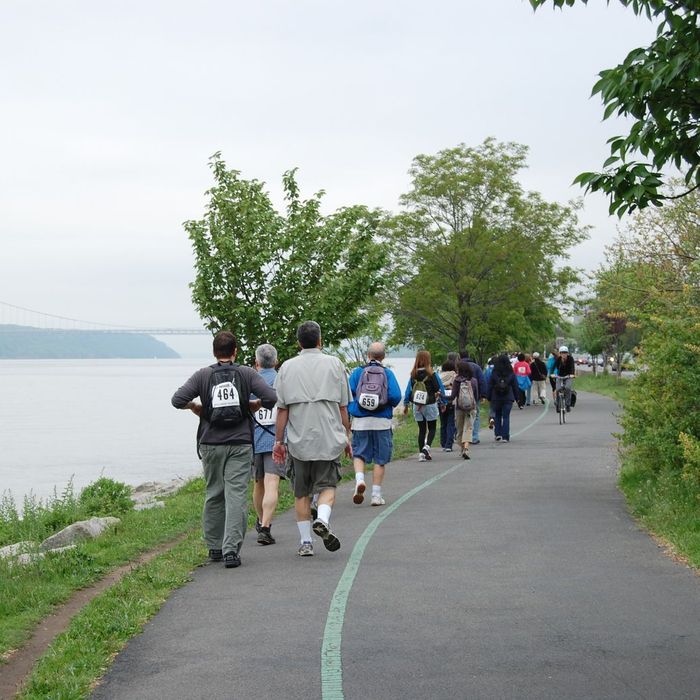 Morgan Griffiths, 27, decided to sign up for the Great Saunter, a 32-mile walk around the coastline of Manhattan, during a night out drinking. "I was maybe a bit vulnerable at the time," he said. His friend bailed on the idea, via text, on Friday night. But Griffiths showed up before 7:30 a.m. on Saturday morning at the South Street Seaport Heartland Brewery, ready for twelve hours of circumnavigation. His colleagues had suggested that a walk of this nature incorporate a pub crawl. "Twelve hours is really long time," he said. "Maybe I'll feel drunk at the end."
Almost 900 people registered for the 27th annual walk, including saunterers from California, Georgia, Mexico, and Australia. Some had prepared by working up to walking twenty miles in a stretch; others, not at all. Participants had packed fruit, sandwiches, granola bars, and, in one case, chicken to fortify themselves. Almost everyone had brought at least one extra pair of socks.
"Every time I opened an e-mail, it said to bring extra socks," said Jutta Salmon. She had one extra pair. Others had two, three, even five extra pairs. "If your feet get sweaty, you get blisters and then you're done," said Dana Mauriello, 29, who calls the Saunter one of the most challenging things she's ever done. Her hobbies, by the way, include competitive powerlifting.
The weather was ideal, at least — cool and hazy. Rounding the lower tip of Manhattan in the dawn hours, saunterers could see the Statue of Liberty, half-hidden in the grey mist. In 1997, the first year that Fred Hartman, 71, came out from Kansas City to do the walk, it was cold. About a hundred people started out that year, and halfway through only twenty remained. "I've finished every one I've done, and that'll include today's," Hartman said, after covering about a mile.
The Great Saunter passes through twenty parks, which start to blend together. The baseball-playing kids are just as cute in Governor Nelson A. Rockefeller Park down by Chambers Street as they are in Inwood Hill Park up past 207th Street, and the cyclists just as aggressive in Riverside Park as on the East River Promenade. An expectant mother drew attention, as did a mother pushing a toddler in a stroller. Everyone wondered about the group of people with British accents outfitted in matching hats and T-shirts. They worked, it turned out, at the British consulate.
"I suggested it would be a nice thing to do," said Danny Lopez, the British consul-general in New York. And so about two dozen members of his staff, along with recruited friends and family, had gotten up at "ridiculous o'clock" to represent their country. They also brought delicious ginger cookies that one staffer called "sustaining."
By mile ten, at West Harlem Piers Park, saunterers were changing their socks and tending to blisters. At Inwood Hill Park, around 1 p.m., people were resting their feet on benches and plastering on moleskin patches. The temptations of Cinco de Mayo margaritas lured away some walkers. By 4 p.m., at Carl Schurz Park, just outside Gracie Mansion, a wave of walkers called it quits, needing not just another pair of socks but a spare set of feet.
Around 5:30 p.m., some of the fastest walkers were arriving back at the South Street Seaport. The Heartland Brewery they'd left early that morning had filled with tipsy, sombrero-wearing celebrants and bridesmaids in pink dresses. In the end, 591 people made it back to the seaport, some still sauntering jauntily, some dragging their feet.
Mikko Makarainen and Andrea Leung were exhausted. In the last few miles they'd had to stop talking to each other and just listen to music. "People really underestimate walking," Leung said. According to Makarainen's pedometer, they'd taken almost 70,000 steps.
"The trick is not to sit," said Ken Adell, 57. On the walk south he had stopped for a couple of beers around 34th Street. "I've been wanting to do this for years," he said. "I'm going to walk home another four miles."