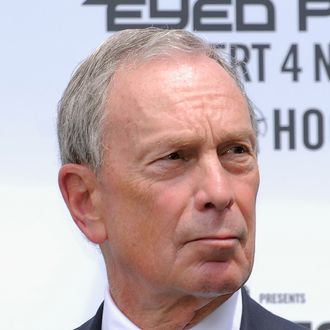 Photo: Jemal Countess/2011 Getty Images
Last evening, New York attended the Fragrance Foundation's 40th Anniversary FiFi Awards. Naturally, perfume was on our mind, so we asked a few attendees whom they'd like to see come out with a signature scent. Jane Lynch would call hers "I Am Not Ellen by Jane Lynch," and suggested "My Armpits!" for a Zach Galifianakis line. We were most intrigued, however, by environmental activist Phillippe Cousteau Jr.'s out-of-the-box suggestion of Mayor Bloomberg. "Someone asked me long ago, if you could go diving or into the jungle or on an expedition or an adventure with anybody, who would it be and I said Bloomberg, so I would think him having a fragrance would be pretty cool, actually," he told New York.
Now, we personally don't get jungle-adventurer vibes from the mayor, and would probably avoid tropical scents entirely if we were creating his signature scent. But what exactly would it smell like? The East River, in homage to the view from Gracie Mansion? Or Eau du Subway, in honor of the mayor's "habit" of riding the rails? Probably not a lot of commercial potential in either of those.
Colognes with tobacco undertones are trendy these days, but we all know the mayor's stance on smoking. Perhaps something with a name like Cloud, in homage to the mayor's helicopter habit? Would something smelling like freshly minted dollar bills be too on-the-nose?
And then it hit us: What's the one sensual pleasure we know Mayor Bloomberg enjoys? (Other than smooching Miss Piggy, of course.) Why, burnt toast. We can see it now: Charred, by Michael Bloomberg. Also functions as a convenient metaphor for his scorched-earth policies on Occupy Wall Street, trans-fats, and the living wage.