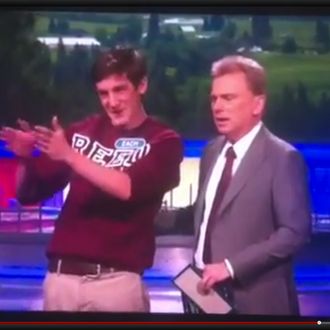 Zach Barron can't believe it wasn't Magic Yand.
Recent Reed College graduate Zach Barron went from anonymous to infamous last week when he failed to correctly solve what might have been one of the easiest Wheel of Fortune Bonus Rounds ever. The footage of his brain freeze went viral around the world, with millions witnessing what will certainly — unless he vomits on the Pope or something — be the most embarrassing moment of his life.
But Barron hasn't spent the past week sitting in a dark room, watching the YouTube video on an endless loop. He's hasn't been muttering "Magic Wand" to himself while drawing devil horns on a photo of Pat Sajak. He hasn't been crying on the floor of his shower, fully clothed, rocking back and forth and holding himself. He's at peace with it all.
"Yup. I fucked up," he writes to us in an e-mail.
Barron prepared diligently for his Wheel appearance. He found a book called Winning on the Wheel, and absorbed its advice. "It helped!" he says. "I learned that answers in the category 'What Are You Doing?' almost always end in 'ing' and solved a puzzle on the show with that in mind." He also "guessed the right letters early in the bonus round because I studied letter frequency charts."
Indeed, Barron's Bonus Round choke was only so colossal in the first place because he had selected his letters so accurately. But when it came down to it, he just had one of those moments. "In those embarrassing ten seconds getting passed around the web, I abandoned the logic and composure needed to win," he tells us. "The gallon of coffee in my blood and the excitement of earlier winning had me a little frazzled."
The fallout online has been interesting for Barron. He gets it. He admits it's "pretty funny." Nevertheless, he says, "I'm surprised at how many sites have picked it up (TIME, really?)."
Though Barron blew the chance at a new Prius, he did come away (pre-taxes) with $19,950. And he's focusing on the positives. "I had an exciting day and came away significantly less in debt," he says. "We all have our dumb and embarrassing moments; mine just came with a lot of money and a huge audience."