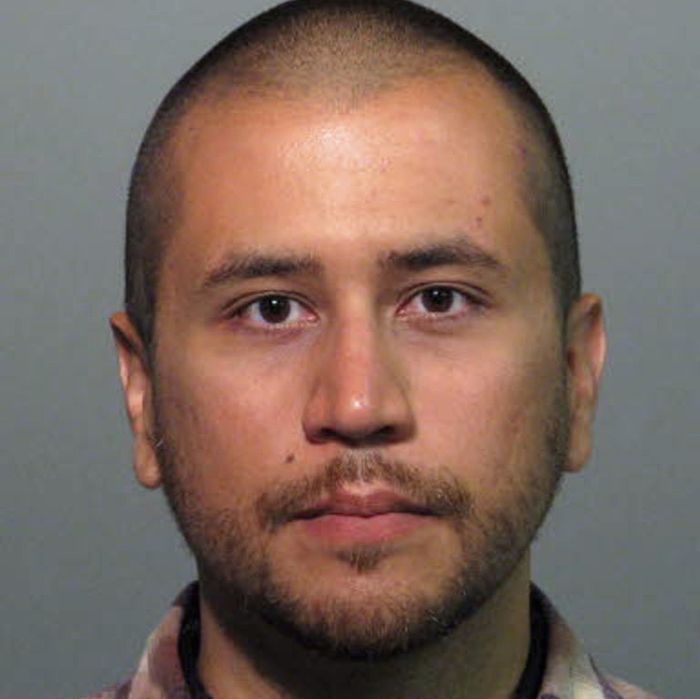 Zimmerman.
Photo: Splash News
Evidence released in the case against George Zimmerman for second-degree murder reveals that, in a series of interviews with law enforcement officials, four key witnesses altered their accounts of the fatal struggle between Zimmerman and Trayvon Martin.
The four witness statements scrutinized by the Orlando Sentinel include a person who lives only a few feet from where the fight occurred, who on the night of the shooting described a black man on top of a lighter-skinned man "just throwing down blows on the guy, MMA-style." The witness also told lead investigator Chris Serino that the person crying for help was the one getting beaten up, meaning Zimmerman. But in an interview with a Florida Department of Law Enforcement (FDLE) agent weeks later, the man said he was no longer sure which person called for help. "I truly can't tell who, after thinking about it, was yelling for help just because it was so dark out on that sidewalk," he said. But the man was consistent with his claim that the black man was on top while they were fighting.

A young woman who lives in the community where Martin was shot told Serino four days after the incident that she had taken out her contact lenses just before shooting. She said, "I saw two guys running. Couldn't tell you who was in front, who was behind." But then in a March 20 interview with an FDLE agent, she said she saw a glimpse of just one running figure. Her account lacks much detail, and of course not having the proper eyewear didn't help.
Another witness, a female neighbor identified as Witness 12, gave her first account to an FDLE agent on March 20, three weeks after the shooting. She told the agent that she saw a fight but didn't know which man was on top. "All I saw when they were on the ground was dark colors," she said. However, she told the trial prosecutor about a week later that she was certain she saw Zimmerman on top.
On the night of the incident, the fourth witness told police that he observed Zimmerman standing with "blood on the back of his head" after the shooting. According to the Sentinel, the man said that Zimmerman told him Trayvon "was beating up on me, so I had to shoot him." The witness said Zimmerman also asked him to call his wife. Then, in a later account, the man described Zimmerman as somewhat unaffected by the shooting, or acting like it was "nothing."

In another recent development in the case, the Miami Herald reports that, in the past, Zimmerman had accused the Sanford Police Department of corruption. At a public forum on January 8, 2011, he claimed that the department covered up the beating of a black homeless man by the son of a white officer. "I would just like to state that the law is written in black and white," Zimmerman told city commissioners at a community forum. "It should not and cannot be enforced in the gray for those who are in the thin blue line."
Zimmerman also described his disgust with the department, recalling instances of total laziness by an officer who took Zimmerman for a ride-along. "The officer showed me his favorite hiding spots for taking naps," Zimmerman said at the forum. "He explained to me he doesn't carry a long gun in his vehicle because in his words, 'Anything that requires a long gun requires a lot of paperwork and you're gonna find me as far away from it.'"
In the following months, Zimmerman kept up a correspondence with the department. In September 2011, Zimmerman wrote the then-chief,
"I have high hopes for, and restored faith in your administration and the Sanford Police Department in its entirety," CNN reports.
Police records also show that five burglaries took place in Zimmerman's neighborhood where he served as a the neighborhood watch captain in a three-month span beginning in mid-July. CNN unearthed police records showing that at a neighborhood watch meeting on September 22, the department distributed flyers concerning crime-prevention that read, "Report suspicious persons … activities … or vehicles." CNN:
Sanford police distributed contact cards and hosted a presentation on crime-prevention and security measures. Some of the flyers distributed read, "Report suspicious persons … activities … or vehicles." Another reads, "Know your neighbor" – going on to issue advice on how to "profile" your neighborhood block.
All of this could prove valuable to the defense, which may use the evidence to show that Zimmerman was a law-abiding citizen who wasn't engaged in racial profiling when he pursued Martin. On the other hand, one could argue that Zimmerman's public comments suggest that he was fed up with the police department and got caught up pursuing vigilante justice.