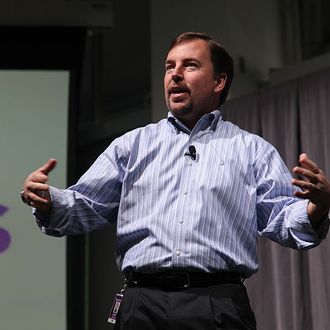 Photo: Yodel Anecdotal/Yahoo! Inc.
Scott Thompson, the embattled five-months-in CEO of Yahoo!, is stepping down from his post, All Things D has learned. The company will cite "personal reasons" for his departure, but the entire tech world knows it's because Thompson falsely claimed on his résumé to hold a computer science degree from Stonehill College. (Just two days ago, Thompson denied any wrongdoing in the case.) This "inadvertent error" — as Yahoo! initially described it — even made it into company's SEC filings, sparking a full investigation and forcing at least one board member to resign.
As part of a deal Yahoo! is working out with Daniel Loeb, the whistelblower investor who first brought this little wrinkle to the company's attention, the remaining board members will step down immediately and make way for at least three replacements pre-selected by Loeb's hedge fund, Third Point. The interim CEO is also likely to be a suggestion of Loeb's: current Yahoo! head of global media, Ross Levinsohn. He would be the company's sixth CEO in the last five years.