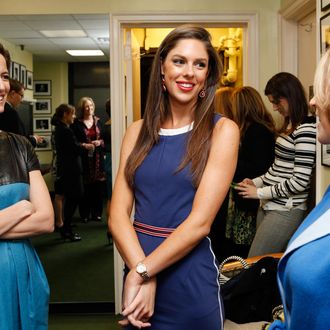 Abby Huntsman Livingston at the Women In Politics Panel With Chelsea Clinton hosted by Glamour magazine at 92nd Street Y on March 28, 2012 in New York City.
Photo: Amy Sussman/Getty Images
Abby Huntsman, the middle and most media-savvy of the famous Huntsman Girls, announced today on Twitter that she'll be the host of a new show on a forthcoming Huffington Post web video channel, HuffPost Live. Which is weird, because the Huffington Post never gives away web real estate to famous people and their offspring.
Related: Media Sense and Sensibility