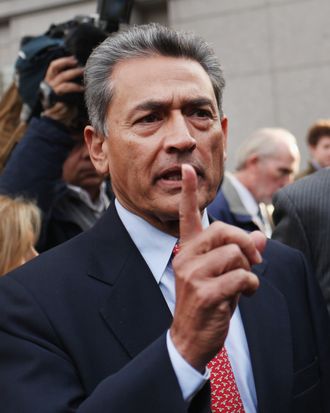 Rajat Kumar Gupta, former Goldman Sachs board member, leaves a Manhattan court after he surrendered to federal authorities October 26, 2011 in New York City. Gupta is charged with conspiracy and securities fraud, stemming from a massive hedge fund insider trading case.
Photo: Spencer Platt/Getty Images
The ex-McKinsey head accused of funneling information to thoroughly disgraced hedge-funder Raj Rajaratnam won't take the stand in his own massive insider trading trial. According to a letter sent by Gupta's lawyer, Gary Naftalis (who had previously said that it was "highly likely" that his client would testify), the legal team decided on the about-face "after substantial reflection and consideration." So, that makes Goldman Sachs CEO Lloyd Blankfein the star of the whole thing by default.