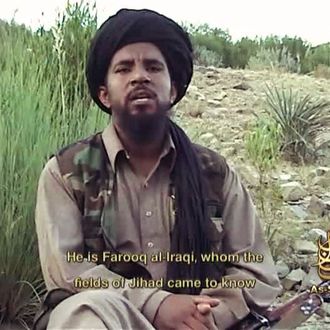 Al-Libi, when he was alive, which he might still be.
Photo: AFP/Getty Images
It's being reported that Al Qaeda's number two official, Abu Yahya al-Libi, was the target of a drone strike in Pakistan yesterday. According to the AP, Pakistani officials say they "have evidence" that al-Libi was "in a house hit by a U.S. drone strike," and U.S. officials are "optimistic" that al-Libi was killed. Already, Al Qaeda has posted a job listing for a new second-in-command on Monsters.com, an Al Qaeda employment site:
POSITION: Al Qaeda's second-in-command.

LOCATION: Unmarked compound somewhere in lawless tribal region of Northwest Pakistan.

SALARY: Competitive.

REQUIREMENTS: Candidate must have at least three years prior experience managing a terrorist network.

BENEFITS: Health insurance, employer-matched 401k, two weeks paid staycation, access to Al Qaeda fitness center consisting entirely of monkey bars.

OTHER: Also, you're probably going to be assassinated in a drone strike pretty quickly.

TO APPLY: E-mail a résumé and cover letter to jobs@alqaeda.pk.
Update: It's official. He's dead.