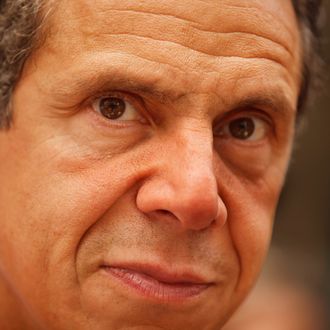 Yes, the governor is eyeing your liver.
Photo: Chip Somodevilla/2011 Getty Images
This may be surprising, considering our glowing reputation, but when it comes to giving up our organs, New Yorkers aren't the most generous folks in the country. In fact, we're second to last (behind Texas) for organ donation. Only about 15 percent of New Yorkers are registered to be organ donors, while the national average is 40 percent. Albany legislators are trying to change that figure, passing a law this week that will require driver's license applicants to consider whether they'll really need their kidneys after they're dead.
The bill, which is currently awaiting Governor Cuomo's signature, will change driver's license forms to include a section on organ donation that applicants "must fill out." The Times notes that currently the section on donation is "clearly optional," but the new documents won't do much to change that. People can simply choose "skip this question," and even if they don't tick either box, their application won't be invalidated.
In 2010 there was an effort to change the law so New Yorkers would have to opt out of organ donation, but it never came to fruition. No such law exists in the United States, and the general consensus is that, unlike Europeans, we can't handle that much real talk about what will happen to our corpse. The co-chairman of the Save Lives Now New York Foundation, which pushed for the measure, says they just want people to "have a momentary contemplation of the decision." Since they'll never get a law that makes New Yorkers do the right thing by default, they're settling for making people think about giving up their organs for two seconds while they're rushing to get out of the DMV.