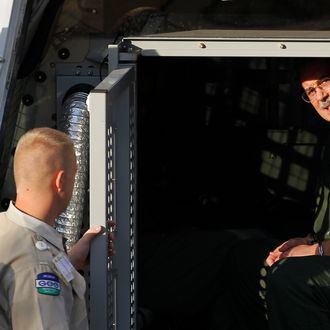 Watch your head there, sir.
Photo: Aaron M. Sprecher/Bloomberg via Getty Images
R. Allen Stanford, the flamboyant financier whose Antigua-based money-management firm we have, in the past, hesitated to describe as a "Ponzi scheme" out of fear for our dental work, was sentenced to 110 years in prison by a Texas judge today.
Stanford's sentence, which will be over when he is a spry 172-year-old, was less than the 230 years prosecutors wanted. It is also shorter than Bernie Madoff's 150-year sentence. (Though, if it helps console prosecutors, it's ten times longer than Raj Rajaratnam's eleven years!)
Stanford's crime, other than having a private jet toilet seat with an eagle on it, was bilking some 30,000 investors in a $7 billion Ponzi scheme (man, it feels good to finally come out and say it) that involved issuing fake certificates of deposits through his Caribbean investment firm. The proceeds from that firm were used to fuel a lavish lifestyle that included being appointed "Knight Commander of the Order of the Nation of Antigua and Barbuda" and scaring the hell out of cricket players. 
The knavish knight was convicted in March of conspiracy, wire and mail fraud, obstruction, and money laundering, but it took a few months to hash out the sentencing.
Oddly, it was Stanford's college roommate, James Davis, who took him down. Davis, the former CFO for Stanford's businesses, was a crucial witness for the prosecution, and "testified that the Stanford business empire was a fraud," according to the Times.
In his testimony, Mr. Davis portrayed his former boss as a bullying manager who manipulated him to lie and cheat investors. He described how Mr. Stanford had invited him to drive with him in his new Mercedes-Benz on a highway outside Houston and floored the accelerator until the car reached 170 miles an hour. "He instilled intimidation and fear," Mr. Davis said.
Advice for current college students: The next time your roommate asks to throw a party in the room, make him promise he'll never take the stand against you before saying yes.