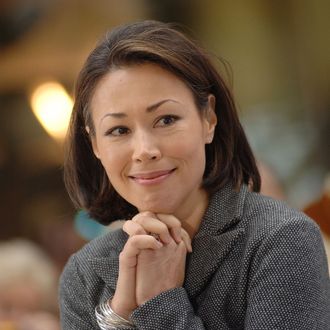 For days, rumors have been swirling about Ann Curry being booted from the co-anchor spot on the Today show, receiving a severance package worth millions, and being replaced by Savannah Guthrie … or Hoda Kotb, or perhaps a vengeful Natalie Morales. Now in an interview with USA Today, Curry has confirmed that she'll be bidding viewers adieu on Thursday morning. While "sounding as though she were fighting back tears," Curry said she doesn't feel she was given enough of a chance, shared her new job plans, and revealed the leaks about her exit "hurt deeply."
During a 40-minute phone interview, Curry said Thursday will be a "tough day":
I'm going to have to tell our viewers. That's what makes me more emotional than anything. I don't want to leave them. I love them. And I will really miss them.
Curry replaced Meredith Viera as co-host a year ago, and says she doesn't think she was given enough time to work out the kinks. She also rejected claims that she and co-anchor Matt Lauer lack chemistry, and that her onscreen awkwardness was partly responsible for the show briefly losing the top morning show slot to Good Morning America. And obviously, having critiques of her job performance and reports of her imminent departure published in every major news outlet hasn't made the past few weeks any easier. "I don't know who has been behind the leaks, but no question they've hurt deeply," she said.
Though Curry probably won't be happy to hear this, the New York Times has some more behind-the-scenes information on her replacement. Sources say that Guthrie has won the gig, but she won't be mentioned when Curry says her good-byes on Thursday. The announcement will likely come in early July so the new team will be in place by the time the Olympics start at the end of the month.

While Curry says she was prepared to leave the network entirely, she's signed a multiyear contract to stay on as the Today show's anchor-at-large and NBC News's national/international correspondent, which entails covering major stories with a seven-person unit and contributing to various NBC programs. Going from the cushy Today studio to covering the uprising in Syria and the plight of poor Americans might sound like a punishment to some, but Curry says, "In my secret heart of hearts, I see this as a thrilling opportunity." Not that she's painting a rosy picture of her Today ouster. "I have called the co-host job at the Today show my dream job, and I would be lying if I said it was easy to leave that job," she says.