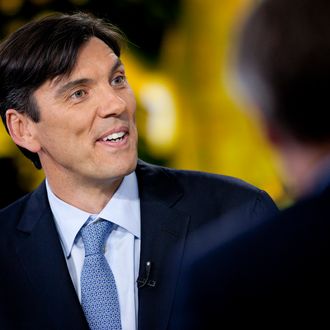 AOL CEO Tim Armstrong.
Photo: Scott Eells/Bloomberg via Getty Images
All eight of AOL's board directors were reelected at the company's annual shareholders meeting this morning, Reuters reports, despite a proxy challenge from unhappy activist fund Starboard. The fund, which owns about 5 percent of AOL, complained previously that CEO Tim Armstrong and friends have spent "good money after bad without an acceptable return on the investment," focusing on "money-losing growth initiatives" like its massive stable of online media properties. But Starboard never stood a chance: CEO Jeff Smith was reportedly allowed just five minutes to state his case, and then hopefully given a pile of those free Internet CD-ROMs for his troubles.