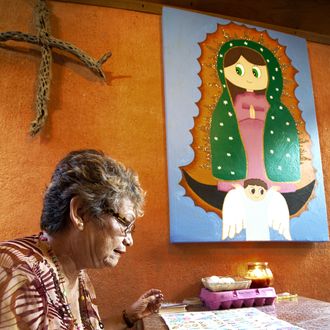 Venus is in the third house = SELL SELL SELL.
Photo: PAUL J. RICHARDS/AFP/GettyImages
While going after big, hard-to-catch fish like Steve Cohen, the Wall Street cops at the SEC are also picking off lower-hanging fruit.
The agency's most recent bust is Gurudeo "Buddy" Persaud of the White Elephant Trading Company, a Florida-based astrology guru who promised to make money for investors by using his knowledge of lunar cycles and gravity to play the stock market.
Persaud's strategy was premised on the idea that gravitational forces affect mass human behavior, and in turn, the stock market. For example, Persaud believed that when the moon exerts greater gravitational pull on the Earth, people feel dejected and are more inclined to sell securities.
Despite how completely legit all of that sounds, Persaud's venture was actually a $1 million Ponzi scheme, the SEC alleged in charges filed in a Florida district court.
Persaud, the SEC alleged, lost $400,000 for his fourteen investors, while spending $415,000 more of their money to pay for his personal expenses. He also allegedly paid investors using other investors' money, the hallmark of a Ponzi scheme.
Wall Street and clairvoyance have mixed before. Raj Rajaratnam consulted ola leaves before his insider-trading conviction came down. And mentalist the Amazing Kreskin has, at Intel's request, pontificated about the Facebook IPO.
But you have to wonder: What kind of sales pitch convinces fourteen investors to give money to an astrology-based firm whose name literally means "a possession entailing great expense out of proportion to its usefulness or value?"
In any case: Great job, SEC. Even better job, Eric I. Bustillo, SEC Miami regional office director, for getting an astrology quip in the press release:
When Persaud blatantly lied to investors and hid their losses through a Ponzi scheme, he should have known that an SEC enforcement action was in the stars.
Yep, high fives all around.