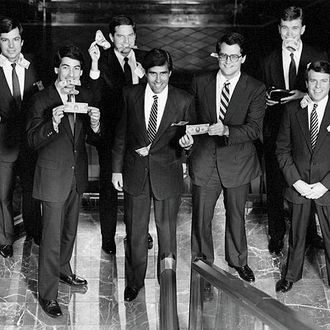 The double-edged sword that is Mitt Romney's career at Bain Capital will not stop causing image problems for the candidate. This time, it's a pair of articles chronicling the private equity firm's outsourcing of American jobs and methods for draining money out of the failed companies it controlled. The Washington Post has the former story, which reporters gleaned from Bain's Securities and Exchange Commission filings. While campaigning, Romney has frequently promised to bring jobs currently done by overseas workers back to the United States, but the filings show that Bain began investing in companies that specialized in outsourcing in the early nineties.
Bain's foray into outsourcing began in 1993 when the private equity firm took a stake in Corporate Software Inc., or CSI, after helping to finance a $93 million buyout of the firm. CSI, which catered to technology companies like Microsoft, provided a range of services including outsourcing of customer support. Initially, CSI employed U.S. workers to provide these services but by the mid-1990s was setting up call centers outside the country.

Two years after Bain invested in the firm, CSI merged with another enterprise to form a new company called Stream International Inc. Stream immediately became active in the growing field of overseas calls centers. Bain was initially a minority shareholder in Stream and was active in running the company, providing "general executive and management services," according to SEC filings.

By 1997, Stream was running three tech-support call centers in Europe and was part of a call center joint venture in Japan, an SEC filing shows. "The Company believes that the trend toward outsourcing technical support occurring in the U.S. is also occurring in international markets," the SEC filing said.
The piece goes on to describe four other major outsourcing-related acquisitions and deals made during Romney's tenure at the firm, though it notes that "Bain was not the largest player in the outsourcing field," and that some of their most aggressive expansion in that arena took place after he left in 1999. Either way, the campaign has responded with a statement criticizing the article as "fundamentally flawed":
[The] story that does not differentiate between domestic outsourcing versus offshoring nor versus work done overseas to support U.S. exports. Mitt Romney spent 25 years in the real world economy so he understands why jobs come and they go.
However, as Politico notes, the statement does not address one of the article's main points, which is that Bain was directly involved with companies that created jobs outside the United States that could have been done here. Meanwhile, the New York Times has a piece (also based on Securities and Exchange Commission filings) detailing a number of instances in which Bain made a profit off of taking over companies that eventually went bankrupt. While some of the companies profiled may have simply been "too troubled to rescue" (or brought down by larger economic or industry trends), there are examples like steel manufacturer GS Industries:
In at least three of the seven bankruptcies, however, companies appear to have been made more vulnerable by debt taken on to return money to Bain and its investors in the form of dividends or share redemptions.

That was arguably the case with GS Industries, a troubled Midwest steel manufacturer that Bain acquired in 1993, investing $8.3 million. The private equity firm took steps to modernize the steelmaker. A year later, the company issued $125 million in debt, some of which was used to pay a $33.9 million dividend to Bain, securities filings show.

The private equity firm plowed an additional $16.2 million into the steelmaker, but when the industry experienced a downturn in the late 1990s, the company could not manage its heavy debt. It filed for bankruptcy in 2001, but Bain's investors still earned at least $9 million.
Even when Bain investors lost money on a collapsed company, the firm was able to walk away with millions of dollars in advisory and other fees. During bankruptcy proceedings, a lawyer for one such company, Cambridge Industries, which was required to pay fees and penalties to Bain even when it was insolvent, wrote: "We have been unable to identify what, if any, 'reasonably equivalent value' the Company received in exchanges for these exorbitant fees … It appears, instead, these fees were nothing more than a device used by Bain to provide a return on its equity."
To be sort of fair, this is basically how private equity firms do business. However, that fact isn't going to do much to eliminate the public's discomfort with Romney's old job, as the Democrats are well aware. Just today, pro-Obama PAC Priorities USA put out yet another attack ad featuring former employees of a company taken over by Bain. In this installment, a laid-off worker recalls being told assemble to 30-foot stage, purpose unknown, outside his plant. As it turns out, the structure was assembled so Bain executives would have something to stand on when they announced they were shutting the place down.