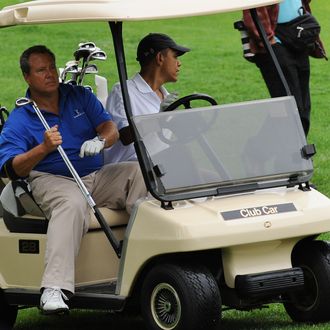 US President Barack Obama drives a golf cart with Robert Wolf sitting next to him as he plays golf at Mink Meadows Golf Club in Vineyard Haven on Martha's Vineyard.
Photo: JEWEL SAMAD/2010 AFP
Robert Wolf, a UBS executive, has been one of President Obama's most important wayfinders into Wall Street. Not only has he been an important source of introductions and cash, but during the Lehman crisis, he helped provide the president with information and analysis during the ongoing conversation. Later, he became an official member of the President's Economic Recovery Advisory Board. Wolf hasn't been shy about his support for the president. He gave an in-depth interview to Frontline that made very clear the contours of their relationship, and the two golf and even go on vacation together. UBS, though, isn't so happy about the very public friendship. As Dealbook reports, the bank has asked Wolf to lay low on the political front for a while.
With media reports pointing out that one of the bank's top executives is also one of the Obama campaign's top bundlers — a word that one UBS executive said "makes people's hair stand on end" inside the bank — the Swiss banking giant has decided to take an unusual step.

The bank's powerful group executive board in Zurich recently presented Mr. Wolf with an edict directing him to report all his media inquiries to the firm's press office. Since then, most of the requests to speak to Mr. Wolf have been rejected, according to people briefed on the situation, resulting in a much dimmer limelight for Mr. Wolf.
While Obama isn't exactly the star he once was on Wall Street, the Wolf silencing might just have more to do with an internal rivalry at the company. An executive named Robert McCann — with whom Wolf doesn't golf, let's just say — is on the rise at the bank, and doesn't seem happy with all the attention Wolf is getting in the media. That it comes with political overtones seems almost secondary. McCann, for instance, sent around an email with Wolf's salary not too long ago. "This stuff is right out of the movie 'Mean Girls' but it involves grown men," one source told the Times. (On Tuesdays, we wear suits.)
Obama, meanwhile, probably won't take too much comfort in being told its not actually about him. Mitt Romney's already far outstripping him in Wall Street dollars, and having one of his most important consiglieres take a step back is probably the last thing he needs right now.