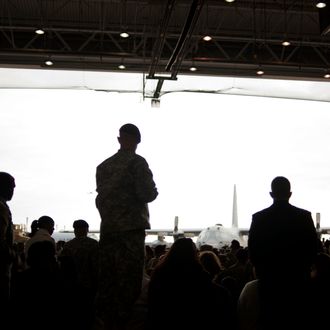 President Obama Speaks To Troops Returning Home From Iraq At Fort Bragg in December 2011.
Photo: Davis Turner/2011 Getty Images
A solider in the U.S. Army's 525th Battlefield Surveillance Brigade at Fort Bragg, North Carolina, killed a battalion commander during a unit safety brief on Thursday, Fort Bragg's press department said in a release. The solider then shot another soldier, who was "slightly wounded," before turning the gun on himself. The shooter survived and was taken into custody in serious condition.
The incident occurred at about 3:30 p.m. during a short safety briefing in advance of the Fourth of July weekend when the solider broke formation and shot the commander with a handgun. MSNBC reports that the 525th Battlefield Surveillance Brigade is a reconnaissance and intelligence unit. Fort Bragg has not identified the deceased commander. "This is a tragedy for our community," said Colonel Kevin Arata, XVIII Airborne Corps and Fort Bragg Public Affairs Officer. "We don't yet know the reasons for the shooting, but are working with the unit and the affected Families to help them through this difficult period."