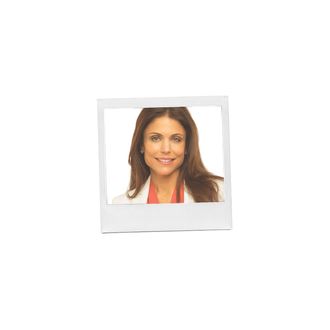 Photo: Courtesy of Bethenny Frankel
Name: Bethenny Frankel
Age: 41
Neighborhood: Tribeca
Occupation: Author, reality TV star. Her new weekday talk show Bethenny launches on WNYW FOX 5 on Monday, June 11 at 11 a.m.
Who's your favorite New Yorker, living or dead, real or fictional?  
Carrie Bradshaw. She's fun, the life of the party, she has a carefree and independent sense of style, she's complicated and flawed.

What's the best meal you've eaten in New York?  
Il Mulino. I like sitting down and being inundated with chunks of parmesan cheese, garlic, and seemingly complimentary appetizers (this place ain't cheap). This was a date spot that many men would take me to impress me. The food and atmosphere was always the silver lining even if the date was a bust.
In one sentence, what do you actually do all day in your job?  
Either stay in PJs with Bryn (my 2-year-old daughter) or run from meeting to meeting, rushing to get back home to Bryn. 
What was your first job in New York?  
I sold suits at a men's clothing store called Beau Brummel that had a few locations in Manhattan. I thought it would be a great place to meet men and I wasn't wrong: Jerry Seinfeld was a customer of the store and I used to pray that he'd come in when I was working. I had a MASSIVE crush on him. I never met him there. Years later I did a few brief times in LA. 
 
The only downfall [with working at the store] was that I couldn't buy the clothes for me. I did, however, have them tailor a suit for me and I wore it with a tie in a very Diane Keaton–inspired way.
 
What's the last thing you saw on Broadway?  
Kathy Griffin did her stand-up show on Broadway. Jason and I went and I think she gave me a shout out. Fun night. 
 
Do you give money to panhandlers?  
No. 
 
What's your drink?  
Is this really a question? The Skinnygirl Margarita. 
 
How often do you prepare your own meals?  
Every day. I enjoy cooking for my family. I always have key staples and then make different variations from that. I make fresh salads, pasta dishes, whatever I have in my home. 
 
What's your favorite medication?  
Anything promoting sleep. 
 
What's hanging above your sofa?  
A random Asian piece of art from my last apartment. It was something at my father's house when he passed away. I have no idea if it's valuable, but one of his pieces that I got I've since realized is a Salvador Dalí.
How much is too much to spend on a haircut?  
Anything above 150 dollars. I'm not a loyalist to a salon or person to cut hair. I'm always willing to try new and don't think expensive means better. Jason gets a 15 dollar haircut at a barber and he likes it better than fancy haircuts. 
 
When's bedtime?  
11 p.m. 
 
Which do you prefer, the old Times Square or the new Times Square?  
There is no place that gives me more anxiety either way. 
 
What do you think of Donald Trump?  
Pompous comb-over. 
 
What do you hate most about living in New York?  
The lack of outdoor space. I like having a drink or meal outside, and I love when Bryn and Cookie can run freely in the yard. It feels completely free versus being trapped. 
Who is your mortal enemy?  
Lack of sleep is my mortal enemy. I judge every day of my life by the number of hours I got the night before. Last night I got seven after a few cocktails which wasn't enough. 
When's the last time you drove a car?  
Last summer. I drove out to the Hamptons. 
 
How has the Wall Street crash affected you?  
I've always been broke when everyone else was thriving and well off when people seem to be struggling.  
 
Times, Post, or Daily News?  
Post oftentimes, sometimes Daily News. 
 
Where do you go to be alone?  
In my bed or to my yoga mat. 
 
What makes someone a New Yorker?  
Confidence, an attitude, and looking like you know where you're going no matter where you are.