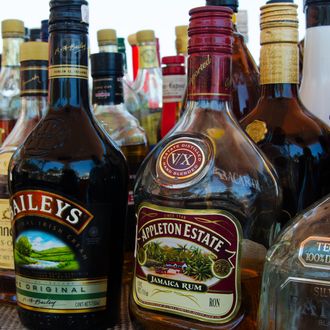 Phew. (Paul J. Richards/Getty Images)
Charlotte, North Carolina, is one of those places where all the liquor stores are government-run and closed on Sundays and holidays. This would seem to present a potential problem for the upcoming Democratic National Convention, which will take place there over Labor Day weekend. After all, who wants to go to a convention at risk of running out of free drinks? (Free drinks being the point of attending any kind of convention.) Luckily, North Carolina's Republican-led legislature is stepping in to ensure that everyone has a good time, party affiliation aside.
To the rescue is a bipartisan group of lawmakers in Raleigh sponsoring a bill to keep the Alcoholic Beverage Control stores in Mecklenburg County, which includes Charlotte, open for Labor Day 2012. Co-sponsored by Republicans and Democrats from the Charlotte area, the measure flowed through the state House last week on a voice vote and is awaiting approval in the Senate.

Rep. Bill Brawley, a Mecklenburg Republican, said helping Charlotte be fully prepared to quench the thirsts of the arriving politicos and media horde is just good manners.

"The political party of the people attending is not material," said Brawley, one of the bill's primary sponsors. "Our state will treat them the way we would want our own people to be treated when they visit other states."
Governor Beverly Perdue, a Democrat "who has frequently clashed with the Republicans who took control of the General Assembly two years ago,"  has pledged to sign the bill into law: "This legislation helps North Carolina be a good host," she explained. See? Bipartisanship is fun (and revenue-generating)!