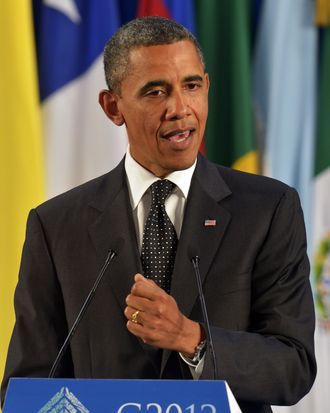 US President Barack Obama delivers a speech at the end of the G20 Summit of Heads of State and Government in Los Cabos, Baja California, Mexico on June 19, 2012. The leaders of the world's most powerful economies met for a G20 summit confronted by turmoil in the eurozone, a critical election in Greece and worsening bloodshed in Syria.
Photo: Cris Bouroncle/AFP/Getty Images
According to Real Clear Politics, every poll over the last month shows President Obama and Mitt Romney somewhere between zero and four points of each other. But today, a new Bloomberg News poll has Obama up by thirteen among likely voters. Bloomberg acknowledges that the poll's "findings are at odds with other recent national surveys," but it still loves it just the same.