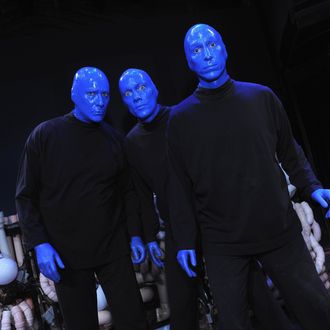 Photo: Jemal Countess/Getty Images
Did you know those creepy dudes in the bald caps and blue paint founded an experimental school for kids in lower Manhattan? It's called the Blue School and it costs $32,000 a year for children age 2 through fifth grade, but doesn't bother with tests or books or a set arrival time, favoring "an integrated, emergent, child-centered curriculum." According to disappointed parents in today's New York Post, it's not working:
One mother, who is yanking her son at the end of the school year, complained that the school is "unstructured." …

"When a 6-year-old says they're bored, there's a problem," the mother said. "I think they bit off more than they can chew." …

"It's all fun and games until you realize your second-grader can't read," a parent wrote on Urbanbaby.com.
And the laundry bills must be outrageous.