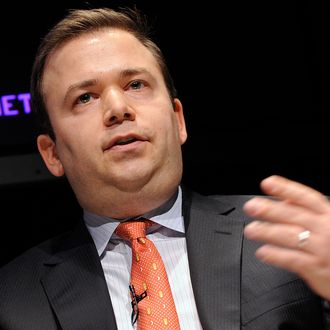 I'm done here.
Photo: Peter Foley/Getty Images
Boaz Weinstein, the chess-playing hedge fund manager who successfully bet against JPMorgan Chase's London Whale, is moving on to the next big trade.
Weinstein made headlines when his hedge fund, Saba Capital, took a long position in a credit derivative called the Markit CDX NA IG Series 9 index, which turned out to be the same derivative Bruno Iksil, JPMorgan's CIO trader, had gone massively short on. Weinstein was hailed as a "wunderkind" and a "hotshot" for his prescience on the trade, while Iksil and JPMorgan, um, yeah.

Now, Reuters reports, Weinstein has liquidated his entire position in the Whale trade and "exited directly to JPMorgan's CIO office."
Oddly, because of the way Saba's portfolio is structured and the marginal amount of leverage involved in its funds, Weinstein's now-famous harpoon job may not have been all that profitable for investors. Reuters pegs the gains in Saba's flagship fund at 2.3 percent for the year through June 22, and according to Absolute Return, Saba's tail risk fund, which stood to benefit more from the Markit CDS trade, is still down roughly 3 percent on the year.
"He has been compared to Captain Ahab, but Boaz Weinstein is more like a fisherman patiently trawling for cod than a whale hunter with an itchy harpoon hand," Absolute Return wrote.
Still, if Weinstein hadn't endorsed the trade at an investor conference earlier this spring, JPMorgan might never have lost $2 billion, and the world would never have known about the cuff links to end all cuff links.
Ergo: Well done, sir.