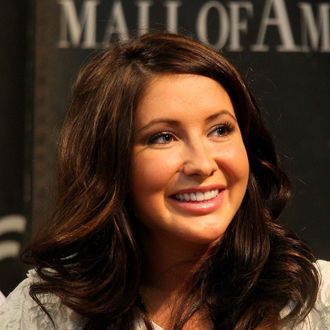 Bristol Palin.
Photo: Adam Bettcher/2011 Getty Images
In an interview on Thursday night, Sean Hannity asked Bristol Palin, America's fifth favorite former teen mom, if she'd ever run for political office. Palin chuckled and said, "Not anytime soon." Hannity pressed on, noting that it seems the door's still open, and Palin replied, "I don't think I'd shut it completely – I'm only 21."
It's a smart move. Clearly Palin has studied Hillary Clinton's career closely and realized that definitively ruling out a run can lead to trouble. She wouldn't want to be haunted by this interview if a year from now viewers of her Lifetime reality show Life's a Tripp (not a joke) are clamoring for someone with expertise in odd baby names and things to do with moose meat to stand up to the Washington Establishment.
On the campaign trail, Palin will certainly be asked to explain why she's now being sued for defamation over that allegedly homophobic bar brawl that was disgraceful for all involved. However, she shouldn't be too worried. While in the past, any incident involving the terms "bar fight," "mechanical bull," and "Saddle Ranch," would have precluded someone from running for office, George W. Bush changed all that.