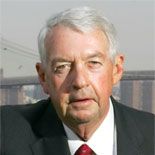 Hynes.
Photo: Courtesy of Brooklyn DA.
Kings County District Attorney Charles Hynes has taken a shellacking in the press lately for his handling of sex abuse in the ultra-Orthodox Jewish community, with critics arguing that he's going easy on offenders for political reasons, proliferating a culture of cover-ups, and inflating prosecution figures. Hynes has responded by announcing his support for legislation that would require rabbis to report sexual abuse allegations, but that doesn't erase past mistakes. Today, the New York Times digs one up with a galling story about Hynes attempting to go easy on a kidnapping rabbi.
And as icing on the bad-press cake, one of Hynes's employees allegedly punched a cop.
The Times reports that in 1994, ultra-Orthodox rabbi Shlomo Helbrans took a 13-year-old boy from his family and tried to brainwash him, only to have Hynes's office encourage police to drop the case. Michael Powell reports that the NYPD division commander and the boy's mother "drove down to the district attorney's office, seeking a meeting. They sat there for hours but never got past reception."
When the FBI pushed for prosecution, Hynes's office attempted to let the rabbi off with just community service, only to a have a judge reject the plea, noting that the family convinced him "that this is a political ploy," because Hynes was running for state attorney general. Yikes.
Flash-forward to the present day: As if the dredging up of this incident in the Times isn't enough of a headache for the D.A., assistant D.A. Yaser Othman was arrested over the weekend for taking "a wild swing" at a cop who pulled him over, according to the Post. He was charged with attempted assault, resisting arrest, reckless driving, and marijuana possession, because cops say they found a joint in his car. Othman, who has been suspended without pay, denies the charges and told the Post, "I don't know anything about a marijuana cigarette. I can't say if they planted it." He insisted, "The truth is going to come out."
But he should probably hope his boss just skipped the local papers today.