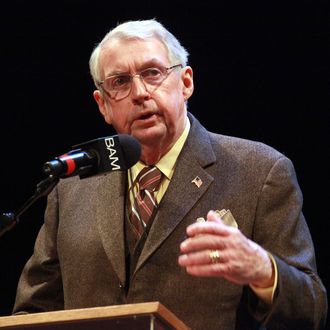 Charles Hynes, caught in a rare moment when he wasn't tracking pedophiles.
Photo: Astrid Stawiarz/2012 Getty Images
In an effort to counter persistent claims that he turned a blind eye to the sexual abuse of children in the ultra-Orthodox Jewish community, Brooklyn D.A. Charles Hynes has often pointed to his decades-long campaign to extradite notorious alleged pedophile Avrohom Mondrowitz from Israel. Hynes says that since he took office in 1990, six years after Mondrowitz fled the country to avoid prosecution, his office played a key part in changing a treaty between the U.S. and Israel that blocked previous attempts to extradite him. Shockingly, Hynes's suggestion that his Brooklyn office was somehow involved in renegotiating an international treaty may not be entirely accurate. 
In the eighties, Israel refused to turn Mondrowitz over, saying its extradition treaty didn't cover sodomy. He remains in Israel to this day, but Hynes has said that his office helped, "convinced the State Department to bring the case to the Israeli government to change the extradition treaty." He told the New York Times this week that he stands by that statement, even though files from the case, which were recently obtained by a lawyer representing several of the accusers, show that that probably never happened. Lawyer Michael Lesher explains:
There isn't a single e-mail, a single letter, a single memo, either originating from the D.A.'s office or addressed to it, that so much as mentions any attempt by the D.A. to seek a change in the extradition treaty … It's just inconceivable that such important negotiation on such a detailed issue could have taken place and not left a trace in the documentary record.
Okay, fine. But Rhonnie Jaus, the chief of Hynes's sex crimes bureau, did call the Justice Department four times in six years to inquire about how the extradition process was going. Plus, Jaus says that they "always wanted" to bring Mondrowitz back to the States. If thinking about bringing pedophiles to justice could make foreign countries change their policies, they totally would've nabbed the guy by now.