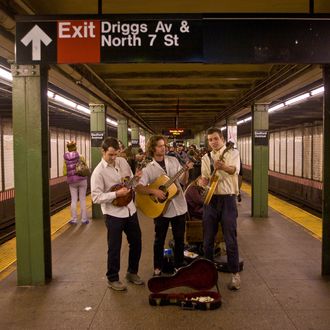 Photo: George Rose/Getty Images
Brooklyn includes four of the 25 most whitened neighborhoods in the United States over the last ten years, according to numbers crunched by education blogger Michael Petrilli of the Fordham Institute. By zip code, that makes it the most represented place on the list, above Washington, D.C., which appears three times. Unsurprisingly, the zip codes 11205 and 11206, which include parts of Fort Greene, Clinton Hill, and Williamsburg, saw about a 29 percent change in the white share of population between 2000 and 2010. Rounding out the list is 11237, a.k.a. East Williamsburg and Bushwick, and 11238, which encompasses Prospect Heights, as well as bits of Crown Heights and Bed Stuy.
Petrilli notes that to map actual gentrification, zip codes aren't ideal ("because boundaries can change") and neither is white share of the population ("because you'd really want to look at changes in income levels"), but making use of the data available, it still provides a telling blueprint. And while the Brooklyn spots are predictable if you've stepped foot off of the L train or near Fort Greene Park in the last decade, cities changing even faster include Roanoke, Virginia; Chattanooga, Tennessee; and Columbia, South Carolina. So even in discussions about gentrification, Brooklyn isn't the center of the universe.