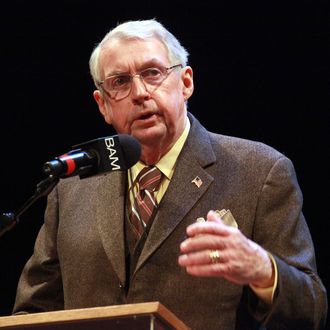 Hynes.
Photo: Astrid Stawiarz/2012 Getty Images
Brooklyn prosecutors dropped their case today against four men charged with sexually abusing an Orthodox Jewish woman over the span of eight years in Crown Heights, the Times reports. The yearlong legal saga has been yet another tough spot for Brooklyn District Attorney Charles Hynes, who is facing sustained criticism for his handling of abuses in the Hasidic community. Upon the arrests last year, Hynes held a press conference trumpeting the 36-count indictment, including rape, robbery, sex trafficking, and compelling prostitution charges, against the four black men, who denied the story.
The defendants, Jamali and Jawara Brockett, Damien Crooks, and Darrell Dula, said the woman participated willingly, while her family claimed it started when she was 13 years old. (The Brockett brothers remained jailed on separate charges.)
Prosecutors, though, failed to turn over police reports and medical records, revealing the accuser's "history of mental illness and amnesia," to the defense. "After a careful reinvestigation of this matter it is clear to the district attorney's office that we cannot go forward," the prosecution told a judge today. "O.K., it's dismissed, sealed," the judge said. For the D.A.'s office, and the community, it won't be that simple. Sex-trafficking prosecutor Lauren Hersh resigned last month after the documents, which also included an interview in which the accuser took back some allegations, came to light.