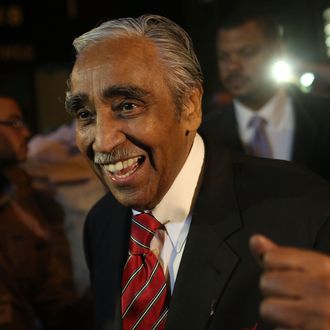 Rep. Charlie Rangel rallies with supporters after polls closed on Tuesday.
Photo: Spencer Platt/2012 Getty Images
Those hoping to see a dramatic upset in Tuesday's New York primaries have been disappointed. Harlem congressman Charlie Rangel, who faced the biggest primary challenge of his career, has succeeded in his bid to seek a 22nd term in the House of Representatives. (And in another contentious race, Assemblyman Hakeem Jeffries beat out City Councilman Charles Barron.) With 74 percent of precincts reporting, Rangel has 49.5 percent of the vote, followed by Adriano Espaillat with 33.8 percent, and Clyde Williams with 11.5 percent.
Rangel, who is 81, has been in office since 1971, making him the third most senior member of the House. In addition to being censured for ethics violations two years ago, Rangel had to contend with redistricting, which transformed Harlem's mainly black 15th district into a mostly Latino 13th district encompassing East Harlem and part of the Bronx. The district is 97 percent Democratic, so the win nearly guarantees that Rangel will win in November in what's expected to be his last run for Congress.