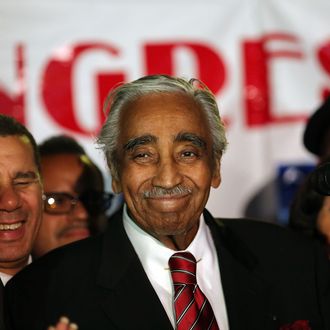 Don't celebrate just yet.
Photo: Spencer Platt/2012 Getty Images
This week's New York primary truly was the biggest fight of Representative Charlie Rangel's career — and it still isn't over. State Sentator Adriano Espaillat conceded defeat on Tuesday night following reports that the the 21-term congressman was ahead by double digits. However, as more results came in, Rangel's lead dwindled to a little over 1,000 votes out of the nearly 39,000 counted. Now Espaillat's supporters are calling for an investigation into the results, saying that when all is said and done, their candidate may still manage to unseat Rangel.
The Associated Press reported on Wednesday that, in contrast to preliminary results, Rangel only had a 2.8 percent lead with returns from 33 precincts and paper affidavit ballots yet to be counted. By the next day, results from 32 of the district's 506 precincts still hadn't been reported and the New York City Board of Elections had yet to provide an explanation.
On Thursday afternoon, about 30 Espaillat supporters held a protest outside of Rangel's Harlem office and demanded that the Board of Elections release more information about the vote. The Daily News reports that City Councilman Ydanis Rodriguez also held a press conference, telling reporters that a large number of uncounted affidavit ballots are from his home district, where Espaillat is particularly popular. Rodriguez added:
I believe we have to call for a federal monitor of the Board of Elections. It's unacceptable that 48 hours after this election has taken place, we don't have an outcome. The reality is that the media has not done their homework and the number is completely different than what was reported. I don't know how to explain it.
While Rodriguez is a close friend of Espaillat's, the candidate has yet to comment directly on the questions surrounding the results. With four candidates running, it now seems that about 56 percent of voters cast their ballot for someone other than Rangel. However, he isn't going to give up the win without a fight. His campaign responded:
We are going through the process like we do after every election in order to ensure each vote is counted. We are confident that at the conclusion of this process we will be victorious.