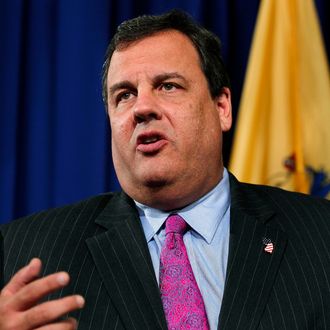 Photo: Jeff Zelevansky/2011 Getty Images
Chris Christie's undying love for Bruce Springsteen is a well-documented phenomenon that just got a little better-documented, in a delightful Atlantic article in which Jeffrey Goldberg headed to a Prudential Center concert with the New Jersey governor, his 129th time seeing the Boss play live.
Christie now infamously was caught in what appeared to be a cat nap at another recent show, and he takes the opportunity to tell Goldberg, yet again, that he was in fact meditating, not snoozing, during "Rocky Ground." "It's a very spiritual song." And he wasn't going to be caught napping twice.
Springsteen, onstage in Newark, turns to "Rocky Ground," the song to which Christie allegedly fell asleep at the Garden. "Rise up, shepherd, rise up," Springsteen sings. Christie's response: "Rise up and stay awake! I'm fully awake!"
The governor also seems to believe that, perhaps, the liberal Springsteen could awaken some of his fellow Republicans.
We're all feeling elation — if the E Street Band at full throttle doesn't fill you with joy, you're probably dead — and it strikes me that this is the moment to ask the governor a trick question: "Do you think Mitt Romney could relate to this? To a Bruce Springsteen show?"

He looks at me like I'm from France. "No one is beyond the reach of Bruce!" he screams over the noise of the crowd, and then screams it again, to make sure I understand: "No one is beyond the reach of Bruce!"

What about Newt?

"He's been married three times!," Christie answers. "He'd get this. You know what I mean?"
The feeling remains unreciprocated — Springsteen mostly ignores Christie and won't talk to press about the governor's obsession. But despite how much Christie loves the Boss, he doesn't love everything about him. "He feels guilty," he tells Goldberg. "He feels guilty that he has so much money, and he thinks it's all a zero-sum game: in order to get poor people more money, it has to be taken away from the rich." The projection and narrative creation involved in that is familiar to anyone who's been in love with someone who just didn't love them back.