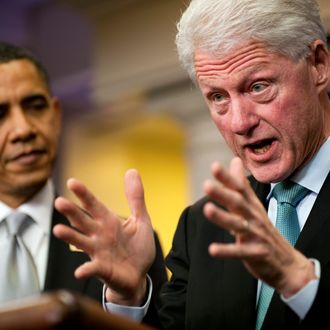 Here we go!
Photo: JIM WATSON/2010 AFP
In an interview on CNBC's Closing Bell on Tuesday, Obama supporter and former president Bill Clinton once again veered off into his own damn territory, saying that Congress ought to temporarily extend all expiring tax cuts and halt budget slashing for now. That includes the so-called Bush tax cuts, the extension of which President Obama strongly opposes. This adds to growing evidence that Clinton only says what the Obama campaign wants him to say when Obama stands by his side. Nevertheless, Clinton doesn't see what all the fuss is about.

Clinton made the statement in the context of a larger analysis of the country's economic expansion and the likelihood that Congress might reach a long term debt-reduction plan this year. 
"What I think we need to do is find some way to avoid the fiscal cliff, to avoid doing anything that would contract the economy now, and then deal with what's necessary in the long term debt-reduction plans as soon as they can, which presumably would be after the election," Clinton said. "They will probably have to put everything off until early next year. That's probably the best thing to do right now. But the Republicans don't want to do that unless he agrees to extend the tax cuts permanently, including for upper income people, and I don't think the president should do that."
And like the last time that Clinton said something beneficial to Mitt Romney and his platform — his praise for Romney's tenure at Bain Capital — Republicans seized on the remark. "President Obama's plans for a massive tax increase after the election will further harm the economy," said Romney spokeswoman Andrea Saul. "Don't just take our word for it. Today, former President Bill Clinton endorsed continuing tax relief for job creators – not the tax increase President Obama has in mind."
Clinton and his spokesman have already responded to what some observers view as a rift between the former and current president. Politico's Roger Simon wrote in a column today, "Bill Clinton is pretty good at sabotaging Obama's strategy." Asked about it on NBC's Nightly News, Clinton said, "Mr. Simon may think I should be an employee of the campaign, but I'm not."
Clinton added, "I'm trying to help the president win reelection because I think he's done a better job than most people know. I think the health care bill is a step in the right direction, not the wrong direction." He also insists he isn't intentionally providing fodder for the Romney campaign. Regarding his praise for Romney at Bain, Clinton said in a PBS interview, "I didn't have any idea when I was giving that answer that I was wading into some controversy in the campaign. I haven't seen the ads and I'm not following it and I'm not really part of it."
Is Clinton really unaware of the Obama campaign's strategy? He joined Obama just last night at a New York fund-raiser. Maybe it all boils down to this: "I've been aghast by all this flutter about it," Clinton said. "I don't think I should have to criticize Romney personally to disagree with his politics."
Take it or leave it.