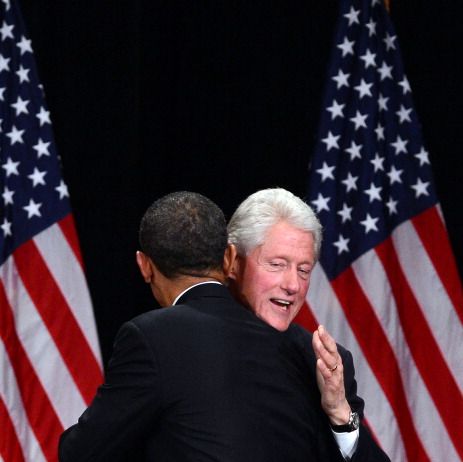 Less than a week after lauding Mitt Romney's "sterling business career" at Bain Capital, former president Bill Clinton swung the pendulum firmly back the other way on Monday, saying that a Romney presidency would be "calamitous for our country and the world."
Clinton made the latter statement at a private fund-raiser in New York Monday night at the home of Marc Lasry, founder of the hedge fund Avenue Capital Group, where about 50 people paid $40,000 to attend a reception. The brutal assessment of Romney as POTUS does not negate the previous remarks about Romney's business acumen, but like the other comment, it's a pretty nice soundbite. This makes it clear that No. 42 is playing for Obama's team, in case there were any doubts.
"The Republican Congress and their nominee for president, Governor Romney, have adopted Europe's economic policies," Clinton said at the event, the second of three of Obama's three fund-raisers on Monday. "Their economic policy is austerity and unemployment now, and then a long-term budget that would explode the debt when the economy recovers so the interest rates would be so high, nobody would be able to do anything." As opposed to Obama's policy vision, which Clinton described as "job growth now, and long-term budget restraint." Clinton added that Obama "has good politics, he's got a good record, he's made the best of a very challenging situation, he deserves to be re-elected."
It turns out that Obama himself committed a verbal gaffe at the third of his three events, referring to Mitt Romney by his father's name."George Romney," Obama said, causing the audience to laugh. "Uh … Governor Romney."
Unlike Clinton's stop on Piers Morgan, where he appeared alone and created a bit of an uproar for showering the opposition with praise, Obama stood at Clinton's side during his Monday remarks. The pool reporter made no mention of a cattle prod or other device in Obama's hand.