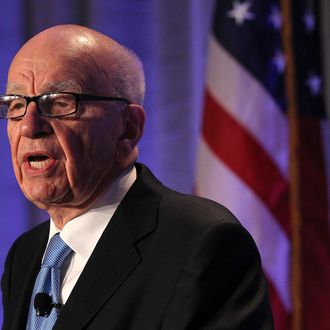 Photo: Justin Sullivan/Getty Images
One of the biggest consequences so far of the News Corp. phone-hacking scandal is that it torpedoed the company's total acquisition of the British satellite broadcaster BSkyB, of which it owns 39 percent. James Murdoch was forced to resign as BSkyB chairman, and a British regulator is in the process of determining whether Rupert is "fit and proper" to have a broadcast license at all. In the course of the investigation, the Murdochs' chumminess with the culture minister that was supposed to be overseeing the BSkyB deal has come to light, embarrassing the Cameron government, and the whole thing continues to be a massive pain for everyone involved. But Comcast is considering coming to the rescue.
These circumstances have prompted News Corporation to consider divesting its BSkyB stake at a premium and retreat from what once looked like a key part of the conglomerate's $50 billion portfolio, according to these people. News Corporation does not want to be forced to sell its BSkyB stake in a fire sale, if Ofcom, the British regulatory body reviewing the matter, were to deem the company unfit to hold the broadcast license, analysts have said. …

Comcast, a Philadelphia-based company, does not typically own minority stakes in foreign companies and if interested, would buy BSkyB outright, though these people cautioned that any exploration is extremely preliminary.
"With the current News Corporation situation everyone in the media business has been approached about BSkyB," one source said, with companies like DirecTV and Liberty Media also cited as possible buyers. But Comcast "has been the company that is most actively approached by outside advisers about whether a BSkyB purchase would make sense," the Times says, although they note repeatedly that "a possible deal is in the preliminary stages, and the company has not made a formal offer or even approached BSkyB or News Corporation about negotiations." Call them, maybe?