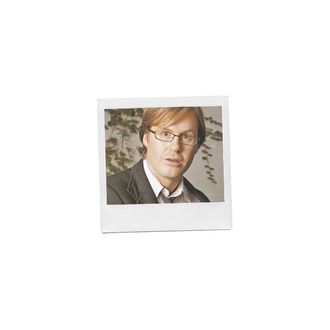 Photo: Courtesy of Kurt Braunohler
Name: Kurt Braunohler 
Age: 36 
Neighborhood: Sunset Park (or Greenwood Heights if we're being silly) 
Occupation: Comedian and host of the new IFC comedy game show, Bunk, premiering tonight at 10:30 p.m. 
Who's your favorite New Yorker, living or dead, real or fictional?
Brooklyn Borough President Marty Markowitz. During the blackout, as we were all trudging home, he was on the Brooklyn Bridge all night just yelling into a megaphone, "Welcome back to Brooklyn!" I'll always love him for that.
What's the best meal you've eaten in New York?
There's this secret Korean taco/cupcake truck I go to. To find it you have to bring a hard-boiled egg to this deli in Bushwick where they give you the address. After you've eaten your cupcake taco (the cupcake IS the taco shell!) a man punches you in the stomach for dessert, and it only costs $40! Only in New York! 
In one sentence, what do you actually do all day in your job?
Sit around naked in my apartment and wonder where animals go when I can't see them. 
What was your first job in New York?
I worked at a bakery in Park Slope. I had to be at work at 5 a.m. and my manager sold weed out of the bakery. I quit when I realized that at 40 hours a week, I couldn't pay even half my rent.  
What's the last thing you saw on Broadway?
A pigeon going to town on an everything bagel. I actually used to see a lot of Broadway with my mom. Mom, we should start doing that again. (I only communicate with my mom through pieces in NYMag, so it's tough to coordinate.)  
Do you give money to panhandlers?
I used to all the time. Now it's 50/50.  
What's your drink?
Vodka soda. That's my version of "working out."
How often do you prepare your own meals?
Every day. But only hard-boiled eggs.  
What's your favorite medication?
Percocet. I try and have as many unnecessary surgeries as possible. Which is tough with no insurance.  
What's hanging above your sofa?
Me. My sofa butts up against my "home office."  
How much is too much to spend on a haircut?
More than $60 seems excessive, but my hair is short and easy. If I had five-foot-long hair, I would totally spend $1000. But I'd also be riding a horse while it got cut, so it would be worth it.  
When's bedtime?
If I'm surfing in the morning the next day, it's early. If I'm not, it's late.  
Which do you prefer, the old Times Square or the new Times Square?
I dislike each of them equally! For people who mourn for old Times Square — hey there's a TON of places in the city still like that! Get on the train and go visit them! And for people who love it now, you're a creepy weirdo. Or a child.  
What do you think of Donald Trump?
I think of him as a duck. Not like Scrooge McDuck — he's a relatively cool duck because he wears clothes. Donald Trump is more like a real duck that is inexplicably on TV, makes a lot of squawking noises, and then shits on everything.  
What do you hate most about living in New York?
Besides being a city that's a predatory monster, consuming water, power, and souls and outputting trash and sewage at an unimaginable rate? I dunno. Probably the lines at Duane Reade.
Who is your mortal enemy?
People who use their horns excessively while I'm walking down the street. (Unless I'm the one using the horn, then it's fine.)  
When's the last time you drove a car?
Yesterday. After sixteen years of living car-free I got a car in January. I love it more than I should.  
How has the Wall Street crash affected you?
How long ago did it crash? I'd have to look at my calendar.  
Times, Post, or Daily News?
None. Not super into "information" lately.  
Where do you go to be alone?
Rockaway Beach.  
What makes someone a New Yorker?
New York is a place that can grind you down and spit you out. A true New Yorker doesn't get ground down, he gets polished.