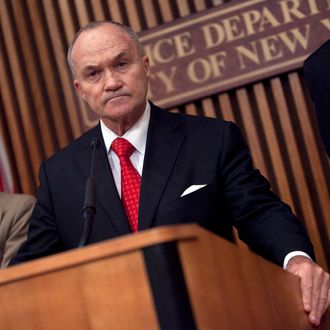 Police Commissioner Ray Kelly.
Photo: Allison Joyce/Getty Images
Earlier this month, Paul Brown, the NYPD's chief spokesman, said the proposed inspector general's office is unnecessary because the department already has plenty of oversight. No independent monitor could "ever outperform" the 1,000 people assigned to the NYPD's Internal Affairs Bureau, as "there's nothing more effective than an internal affairs bureau with teeth." That may be true, but according to several lawsuits those teeth are pretty rotten.
While the NYPD has worked in recent years to end the stigma associated with snitching on fellow officers, three former detectives and a current one have filed lawsuits alleging that they were harassed for reporting corruption. In one federal suit, Detective James Griffin, who retired last summer, claims that the NYPD created a hostile work environment and infringed on his right to free speech after he reported that colleagues were trying to frame him for a botched homicide investigation. Griffin had a distinguished career, but that changed after he started working with Internal Affairs. Per the New York Times:
Within a month, Mr. Griffin said, he found the word "rat" scrawled on his locker. Another detective called him a coward and threatened to write that Mr. Griffin was a rat on every chalkboard in the building, the lawsuit claims.

He was told not to come to his detective squad's Christmas party, and his money for it was refunded.

In the squad room, colleagues switched desks to sit farther from him. Many stopped making eye contact with him, he said in an interview. Nobody would work with him, which affected his cases, because detectives are required to be accompanied by a partner on investigations.
Griffin claims that even transferring to new commands didn't help, since his colleagues would call ahead to warn his new co-workers that he wasn't to be trusted.

Police Commissioner Ray Kelly has worked to bulk up Internal Affairs, drafting officers into the department and encouraging reporting. Last year, the NYPD went after officers who threw out traffic tickets for friends and family. Though the investigation turned up evidence of more serious crimes, the crackdown on such a minor violation made the NYPD more wary of Internal Affairs. If the allegations are true, making an example of the officers only led to an even bigger push against cops who report one of their own.