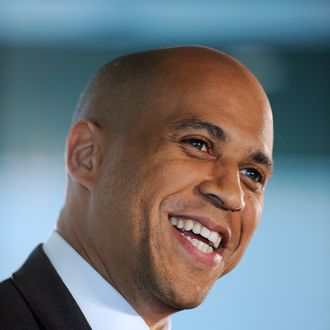 In the past few weeks Newark Mayor Cory Booker's name has become synonymous with going off message, and the New York Post recently reported that this led a White House official to declare, "He's dead to us." Yet, it seems Obama and Booker have started to work through some of their issues, since the President is allowing the Mayor to co-host his fund-raiser at the Plaza Hotel in New York tomorrow night. The New York Observer's Politicker* decided to check in with Booker on their relationship status, and whether he thinks this will put an end to rumors that they're on the outs. He responded in an e-mail.
"Since when do you all at NY Observer give so much credence to the Post on chatter? I'm giving speeches around the country for the party, I'm co-chair for the DNC Platform committee, I'm fund-raising for the campaign, hosting Thursday's event and more," Mr. Booker wrote. "Draw your own conclusions."
Booker sounds a bit tense, but who wouldn't be? If Obama doesn't take Booker back after hosting a $10,000 per seat dinner, he'll have to resort to standing outside the White House with a boom box blaring Peter Gabriel.
* Edited to clarify that Politicker is operated by the New York Observer.