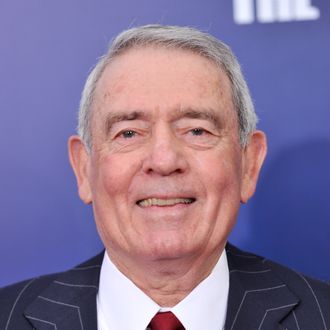 Rather surprised by the accusation.
Photo: Stephen Lovekin/2011 Getty Images
Veteran newsman Dan Rather can scratch another one off of his bucket list. Venezuelan-American journalist Eva Golinger has accused Rather of engaging in "necrophiliac storytelling about the Venezuelan President," Atlantic Wire points out. Called "one of the most prominent fixtures of Venezuela's expanding state propaganda complex" by the Times, Golinger made the written assault on Rather in a post on her blog "Postcards From the Revolution," a response his recent report that Venezuelan president Hugo Chávez has an aggressive cancer that has "entered the end stage."
Golinger reaffirmed Chávez's candidacy for president in Venezuela's October 7 election, but not without more disturbing, possibly sexual imagery. "What prompted Dan Rather to write such diatribe?" she wrote. "Why would he join the ranks of Roger Noriega, the wretched Miami Herald and a slew of pseudo-journalists drooling over their morbid wet dreams of President Chavez's failing health?"
CNN reported that Chávez appeared on state-run television recently looking "chipper and energetic." Perhaps Rather will need to hold himself over with a different morbid wet dream.