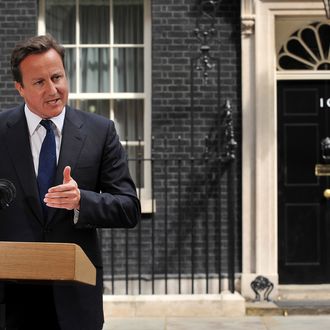 Photo: BEN STANSALL/2011 AFP
British Prime Minister David Cameron appeared before the Leveson Inquiry on media ethics today, and became the latest high-profile witness to insist that the connection between Rupert Murdoch's phone-hacking News Corp. bunch and the country's top politicians isn't as problematic as it appears. In an all-day exchange, Cameron was made to answer for his personal and professional relationships with the marred media empire, including the hiring of ex-News of the World editor Andy Coulson as his communications director, the government oversight of News Corp.'s now-abandoned bid for BSkyB, and his extracurricular friendship with former Murdoch exec Rebekah Brooks and her husband, both now charged with perverting justice. Cameron, like the Murdochs and their team before him, insisted the whole thing is much ado about nothing.
He called the idea that he traded political favors for kind newspaper coverage "an entirely specious and unjustified conspiracy theory." While he admitted, "Of course I wanted to win over newspapers," being a politician and all, he denied "overtly or covertly making deals" with the Murdochs.
Cameron also shrugged off his LOL-filled relationship with Brooks, who was quoted in text message telling the prime minister before a conference, "I am so rooting for you tomorrow not just as a proud friend but because professionally we're definitely in this together!"
Speaking of uncomfortable potential conflicts of interest, the Murdoch-owned Wall Street Journal's coverage of the Cameron appearance features the disclosure, "News Corp. owns The Wall Street Journal" in its seventeenth paragraph. And despite his central role in the inquiry, the boss's name doesn't show up until the eighteenth.