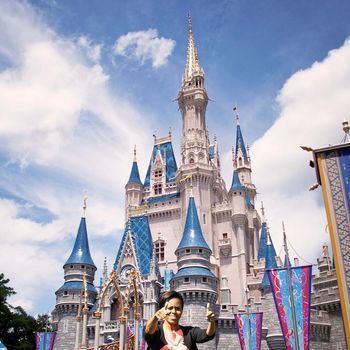 Photo: Matt Stroshane/Bloomberg via Getty Images and Alex Wong/Getty Images
Saturday morning cartoons have long been the ultimate vehicle for selling sugary cereal and frosted cookies to hypnotized, immobile children via jingles and magical characters, but Tony the Tiger is now an endangered species. Disney, in association with Michelle Obama, is rolling out a plan to stop running ads for certain junk foods on its TV channels (including ABC's Saturday A.M. programming), radio stations, and websites by 2015. "With this new initiative, Disney is doing what no major media company has ever done before in the U.S.— and what I hope every company will do going forward," the "Let's Move!"–founding First Lady said in a statement. Between this and Mayor Bloomberg's big soda ban, pint-sized sugar junkies should be trembling. 
The New York Times reports that the Disney initiative will inconvenience current advertisers like Capri Sun and Kraft Lunchables that "along with a wide range of candy, sugared cereal and fast food, will no longer be acceptable advertising material." Disney chairman Robert Iger admitted that some revenue will be lost, but said "companies in a position to help with solutions to childhood obesity should do just that." Conversely, he added, "This is not altruistic. This is about smart business."
The plan will apply to programming aimed at kids 12 and under, covering both live-action shows and cartoons. Standards include blocking ads for cereals that contain more than ten grams of sugar per serving, like Froot Loops and just about everything else delicious. The company will also cut sodium in its theme-park food for kids, though good luck getting adults to loosen their grip on those giant turkey legs.
The inclusion of Michelle Obama, whose main fight as First Lady has been against childhood obesity, in today's announcement only increases the odds that other corporations will be pressured into following Disney's lead — Nickelodeon and Cartoon Network are on notice, the Times reports. Barbies and Nerf guns, meanwhile, just got a ton more airtime.
In memoriam, here are some spots that are still burned into our brains: